President marks Central American Independence Day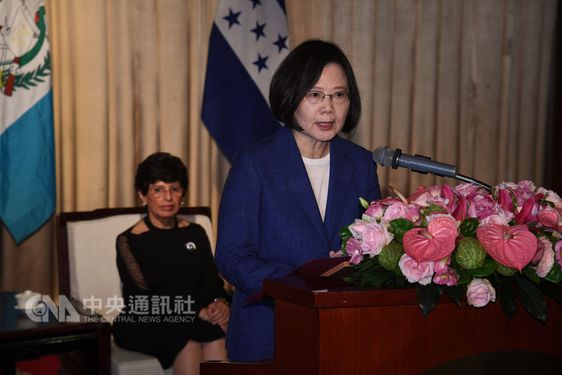 Taipei, Sept. 17 (CNA) President Tsai Ing-wen (蔡英文) attended a banquet to mark Central American Independence Day in Taipei Monday, urging like-minded allies in that region to team up with Taiwan in its pursuit of democracy and freedom amid growing pressure from China.
"China's continued diplomatic suppression of Taiwan will only strengthen our partnership with our Central American allies," Tsai said in a speech at the banquet, which was also attended by National Security Council Secretary-General David Lee (李大維), Minister of Foreign Affairs Joseph Wu (吳釗燮) and Minister of National Defense Yen Te-fa (嚴德發).
Nicaragua Ambassador William Manuel Tapia Aleman, as well as Sierra Quesada and Olga Maria Aguja Zuniga, his counterparts from Honduras and Guatemala, were also present at the celebration.
"We are happy to celebrate the 197th anniversary of Central American Independence Day with our diplomatic partners in that region," Tsai said, adding that "on behalf of the government and people of the Republic of China (Taiwan), I would like to deliver our profuse congratulations and firmest support to our allies that have spoken for Taiwan at international gatherings."
Although the geographic distance between Taiwan and Central America is great, Tsai, however, said that the two sides share the same aspirations and compassion for democracy and freedom.
"People in Central America stood up and fought against colonial suppressors 197 years ago to allow younger generations to enjoy genuine freedom, a path that Taiwan's people have also traveled along, thanks to the sacrifices and efforts made by our pioneers," she said.
Since its Central American allies have always been Taiwan's strong supporters, Taiwan's government and enterprises will form special task forces to further explore Central American markets and help build infrastructure to boost development there, she added.
Echoing Tsai's comments, Aguja said Taiwan and its Central American diplomatic allies have shared the same diplomatic values for a long time and she expressed hope that the two sides will continue to advance mutually beneficial trade and investment relations in a globally sustainable manner.