Taiwan empathetic to migrants, refugees due to its history: Tsai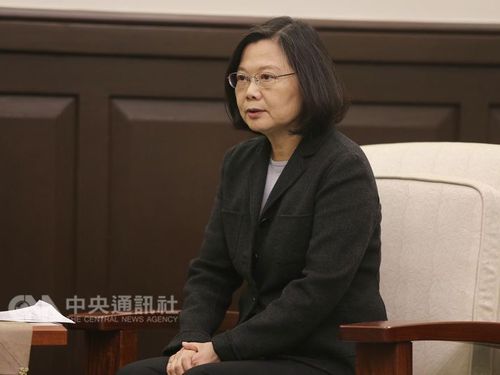 Taipei, Jan. 12 (CNA) President Tsai Ing-wen (蔡英文) has said in a letter to Pope Francis that the people of Taiwan are empathetic to migrants and refugees because of Taiwan's history and its continuing status as an immigrant society.
The letter, which was released by the Presidential Office on Friday, was in recognition of the pope's support of migrants and refugees in his message for the 2018 World Day of Peace titled "Migrants and Refugees: Men and Women in Search of Peace."
The pope's message, which was first released on Nov. 24, 2017 and delivered on Jan. 1, 2018, urged countries to view global migration "with confidence as an opportunity to build peace" instead of seeing it as a threat.
In her letter, Tsai called the message "a timely statement on the international situation, where the plight of persecuted refugees and migrants makes headlines on daily basis."
The pope said many people migrate out of desperation because their own countries offer neither safety nor opportunity, and the people of Taiwan feel deeply for these people as "their plight reflects our own history," Tsai said.
She wrote of the first wave of mass immigration to Taiwan 300 years ago when people fled poverty across the Taiwan Strait and another wave of immigration in 1949, when 2 million people fled war, noting that these migrants "struggled together to forge a new destiny on this land."
In addition, Tsai said, there are now 600,000 blue-collar immigrants and 500,000 foreign spouses in Taiwan, most of whom come from Southeast Asia.
"We see them as an infusion of new strength and a force for cultural diversity," Tsai wrote.
In response to the pope's call for compassion for refugees, Taiwan has also provided long-term support for Syrian refugee camps in Jordan, refugees in Kurdistan in Iraq and Burmese refugee camps in Thailand, Tsai said.
She hoped that the pope's World Day of Peace message "will increase awareness, and lead to action that relieves the misery of immigrants and refugees throughout the world."
The Holy See is Taiwan's only diplomatic ally in Europe and one of only 20 around the world. It has had formal ties with the Republic of China (which is now Taiwan's formal name) since 1942, when the R.O.C. still had its seat of government in mainland China.