Taiwan to start maritime negotiations with Japan by July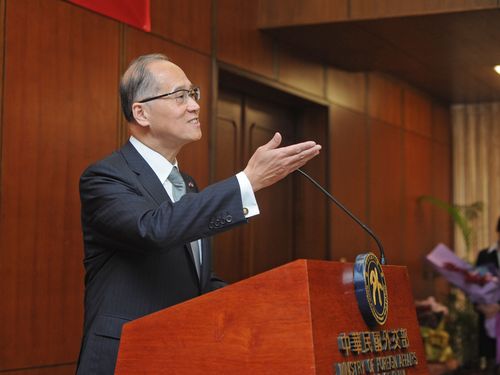 Taipei, May 25 (CNA) Foreign Affairs Minister David Lee (李大維) said Wednesday that the government is slated to start maritime negotiations with Japan by late July in an effort to better protect Taiwan fishermen's rights on the high seas.
Taipei and Tokyo will kick off two-way talks by the end of July and Lee pledged that the government will do its best to safeguard Taiwanese fishermen's rights, Lee said in response to a question from lawmaker Wang Ting-yu of the ruling Democratic Progressive Party (DPP) at a legislative hearing.
Wang expressed concern about Taiwanese fishermen's rights in waters around the Japan-held Okinotori atoll following the inauguration of the DPP-led government May 20, amid fears that Taiwanese fishing ships will continue to be detained by Japan after the Tung Sheng Chi No. 16 and its crew were seized by the Japanese coast guard April 25 while operating in waters near Okinotori.
The Pingtung-registered fishing vessel and crew were released only after the family of the boat captain paid a deposit of 6 million Japanese yen (US$54,442) to the Japanese authorities.
The incident fueled anger among Taiwanese fishermen, prompting the previous administration of former President Ma Ying-jeou to send patrol ships to protect Taiwanese fishing ships there.
In contrast to Taiwan's position that the nine-square-meter Okinotori atoll is no more than rocks unable to sustain human habitation or maintain economic activities of its own that fall in line with international norms, Japan insists that the Okinotori is islands and thus entitled to have a 200 nautical mile exclusive economic zone.
Noting that Taiwan's Coast Guard Administration boats are still patrolling and protecting Taiwanese fishing ships in waters near Okinotori, Wang asked Lee how the new government can fully protect the rights of Taiwanese fishing ships there if it stops its patrols, as it has said that it will resort to international arbitration to deal with the dispute.
"If the government really alters the current approach, it will spark misgivings among Taiwanese fishermen about its determination to protect their fishing rights there," Wang said.
"What will happen if Taiwanese fishing ships operate in waters near Okinotori after May 20? Will they get seized again by Japan?" he asked, demanding that Lee must safeguard Taiwan's interests and stressing that Taiwanese fishermen's rights must not be sacrificed, despite the transfer of power.
"In principle, they will not be detained by Japan," Lee replied, because Japan understands that "it is a fact that some fishing boats from Taiwan are operating in that area." He did not elaborate.
(By P.C. Tang and Flor Wang)ENDITEM/J