U.S. congressman suggests Taiwan as new carrier port-call location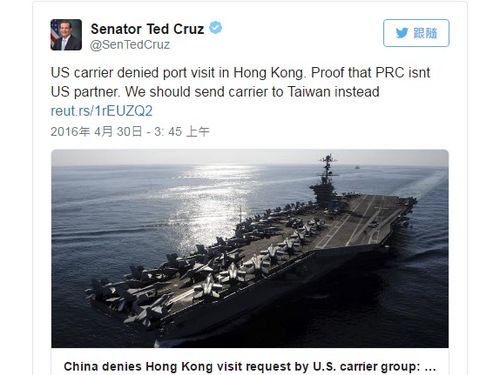 Washington, May 2 (CNA) Following China's refusal to allow a U.S. aircraft carrier to make a long-scheduled stop in Hong Kong, Washington should consider new locations for carrier calls in Asia, including Taiwan, an American congressman said Monday.
In a statement issued Monday, Republican Randy Forbes, chairman of the House Armed Services Committee's Seapower and Projection Forces Subcommittee, said it was time for the U.S. Department of Defense to consider new carrier port-call locations in the region.
"China has repeatedly politicized the long-standing use of Hong Kong for carrier port visits, inconveniencing the families of thousands of U.S. sailors and continuing a pattern of unnecessary and disruptive behavior," Forbes said.
"As Beijing's direct control of Hong Kong intensifies, the U.S. Navy should strongly consider shifting its carrier port calls to more stable and welcoming locations," he said.
Many U.S. allies and partners in the region, including Taiwan, "would no doubt welcome our carriers and their crews with open arms," he said.
Forbes' statement came after China denied the request of a U.S. carrier strike group led by the USS John C. Stennis to visit Hong Kong, amid heightened tensions over China's territorial claims in the South China Sea.
A U.S. defense department official confirmed last week that the request for the Hong Kong visit by the carrier and its accompanying vessels, which had been patrolling the South China Sea, was recently denied, foreign media reported.
Forbes' suggestion echoed a call by Republican presidential hopeful Ted Cruz in a Twitter post after China denied the request that the U.S. should send the carrier to Taiwan instead.
Although Taiwan and the U.S. do not have official ties, the U.S. is Taiwan's main weapons supplier, and the two sides maintain close military and security cooperation.
(By Tony Liao and Elaine Hou)ENDITEM/ls