Taiwanese delegation allowed to attend OECD meeting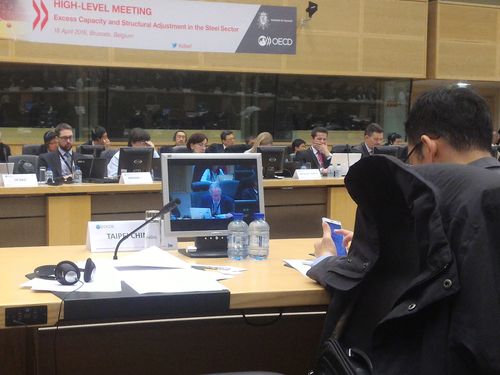 Brussels, April 19 (CNA) A Taiwanese delegation was allowed to attend a meeting of the Organization for Economic Cooperation and Development (OECD) in the Belgian capital Brussels Tuesday, despite being asked to leave the previous day due to pressure from China.
According to Taiwan's representative to the European Union and Belgium, Tung Kuo-yu (董國猷), the delegation is taking part in the meeting under the name "Taiwan" and is being seated between Turkey and Sweden.
Tung said his representative office will be careful to guard against any boycott attempts by China.
Before Tuesday's meeting began, he said, two officials from Belgium's Ministry of Economic Affairs apologized to the Taiwanese delegation for Monday's incident, saying that they were under great pressure.
Although Taiwan is not a member of the OECD, it was invited as a dialogue partner to attend a high-level symposium on excess capacity and structural adjustment in the steel sector, which is being co-sponsored by Belgium and the OECD.
The meeting is limited to the participation of government officials.
On Monday, the Chinese delegation demanded that the Taiwan delegation leave, saying it was not a high-level contingent.
The Taiwan delegation objected but had to comply after Belgian Deputy Prime Minister Kris Peeters caved to pressure from China and asked the delegation to leave.
On the second day of the meeting, however, the Taiwan delegation was allowed to participate in the meeting after the Belgian officials apologized.
In the wake of the incident, Taiwan has strongly protested the treatment of its delegation by China, Belgium and the OECD.
(By Leaf Chiang and Y.F. Low)ENDITEM/pc