DPP's Tsai promises 'no provocation, no surprise' China policy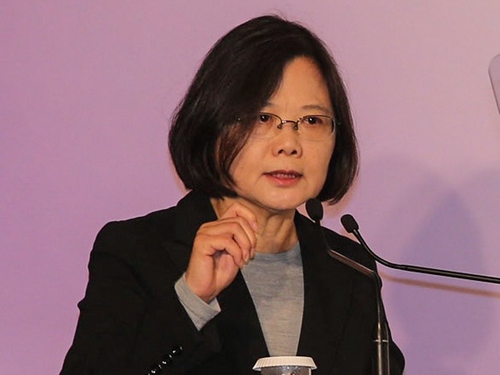 Taipei, Dec. 22 (CNA) Tsai Ing-wen (蔡英文), chairwoman of the opposition Democratic Progressive Party (DPP) and front-running presidential candidate in next month's elections, said Tuesday that Taiwan needs stable cross-Taiwan Strait relations and that her cross-strait policy will be "communication, no provocation, no surprises, as well as continued safeguarding of cross-strait stability."
Meeting business leaders in an economic forum, Tsai stressed that "maintaining the status quo" will be the cornerstone of her cross-strait policy if she is elected.
By "maintaining the status quo," she said she means maintaining the Republic of China's constitutional system in dealing with cross- strait ties, based on the people's will and in conformity with the interests of the public, regardless of any political party stance.
The DPP's pro-independence leaning has been a major concern for people not only in Taiwan, but also in the United States and China. With that in mind, Tsai said that when it comes to cross-strait ties, "Beijing's attitude is very important."
However, she continued, Taiwan is a democratic society in which the people's will is also very important. "So there is a need to balance both (Beijing's attitude and Taiwan's public will)," she added.
The candidate said that if elected, she will prioritize a bill overseeing cross-strait pacts, and will engage in good communications with China and the international community.
Tsai said she will cherish and safeguard the results accumulated over more than two decades through cross-strait consultations and exchanges and will continue to push for the peaceful and stable development of cross-strait relations based on them.
On the economic front, Tsai promised that Taiwan will not suffer an electricity shortage if she is elected in January.
Tsai, generally considered a shoo-in for the Jan. 16 presidential election, said that she will complete a planned power development project on time.
In the long run, Taiwan will do its best to develop renewable energy, such as making good use of solar energy, Tsai said.
She said she will also provide incentives to encourage power conservation, stressing that she will strengthen management of peak-time electricity use in the summer.
Tsai made the pledge at a forum sponsored by seven major trade and business groups in a bid to learn about the views of three presidential candidates on regional economy, cross-Taiwan Strait relations, energy and other issues.
Tsai was the first of the three presidential candidates to appear before the forum. The other two presidential candidates -- Eric Chu (朱立倫) of the Kuomintang and James Soong (宋楚瑜) of the People First Party -- will attend similar forums later.
On her energy policy, Tsai said she will set up an office in the Executive Yuan in charge of energy and carbon emissions reduction, and push for green energy and energy conservation.
On industrial policies, she said her two main goals will be to raise the profits of businesses and the salaries of workers.
She pointed out that Taiwan's weak economy is not just a short-term economic cycle, but the result of long-term structural problems.
She said the woes of Taiwan's economy is that it is highly reliant on exports, with information and communications products comprising the bulk of exports.
Tsai said she knows businesses care most about land, water, electricity supplies and talent recruitment.
In terms of land, a DPP think tank has formed an infrastructure task force to check land use and idle land comprehensively. In the long term, the party will complete national land planning.
If elected, the party will also create an environment friendly toward the permanent residency of foreign professionals.
She also said that Taiwan is not short of water, but short of water resource management.
She said that if elected, she will designate between NT$30 billion and NT$40 billion in tax revenues to build a long-term care system and will consider raising the inheritance and gift tax by between 5 percent and 10 percent to finance these expenses.
On foreign relations, Tsai said that the primary goal is to solicit joining regional economic blocs such as the Trans-Pacific Partnership (TPP). If elected, she will also form a task force to push for Taiwan's participation it the TPP, she said.
The party will also actively solicit the opportunity to join the Regional Comprehensive Economic Partnership, and will not pass on chances to sign free trade agreements with other countries.
(By Lu Hsin-hui and Lilian Wu)ENDITEM/J