Taiwan reiterates demands to visiting Vietnam officials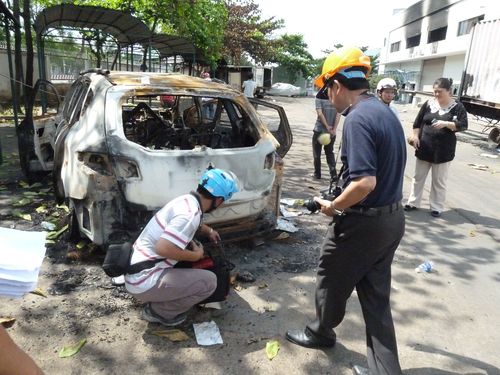 Taipei, May 27 (CNA) Taiwan reiterated several demands it has made of Vietnam following attacks on Taiwanese factories there during a meeting in Taipei between Taiwanese and Vietnamese officials, the Ministry of Foreign Affairs said Tuesday.
Foreign Minister David Lin met with Vu Huy Hoang, Vietnam's industry and trade minister, on Monday after a visiting Vietnamese government delegation led by Vu met with Taiwan's Economics Minister Chang Chia-juch, said ministry spokeswoman Anna Kao.
Lin again demanded that the Vietnamese government ensure the safety of Taiwanese businessmen and expatriates in the country, compensate Taiwanese businessmen for losses suffered during the anti-China riots on May 13 and 14, and take measures to restore Taiwanese businessmen's confidence in Vietnam, according to Kao.
In response, Vu said that Vietnam has announced measures to help businesses affected by the riots and that it will discuss compensation for Taiwanese companies that bore the brunt of the violence with Taiwan's Ministry of Economic Affairs (MOEA), according to Kao.
Vietnam's industry and trade minister also apologized for the losses Taiwanese businesses in Vietnam suffered during anti-China violence there in mid-May, as he did when meeting with Chang earlier Monday.
During his four-hour meeting with Chang, Vu reiterated that measures will be taken to punish the mobs that looted and in some cases set ablaze Taiwanese factories operating in Vietnam.
The Vietnamese delegation was in Taiwan at the instruction of Prime Minister Nguyen Tan Dung, according to the Economics Ministry.
The visit by the Vietnamese delegation came after Taiwan's Vice Economics Minister Shen Jong-chin led a delegation to Vietnam last week to assess the damage sustained by Taiwanese businesses there and help them seek compensation from Vietnam.
A total of 224 Taiwanese companies reported damage during the riots, with 18 factories set on fire, five of which were completely destroyed, according to MOEA statistics.
The operations of about 1,100 Taiwanese enterprises were also suspended, the ministry said.
The anti-Chinese protests erupted in southern Vietnam May 13 over a Chinese oil-drilling venture in an area of the South China Sea that Hanoi insists is within its exclusive economic zone.
(By Hsieh Chia-chen and Elaine Hou)ENDITEM/ls
Related stories:●May 26: Vietnamese minister conciliatory in Taipei meeting: official●May 21: Taiwan, Vietnam discussing losses incurred during rioting
(Click here for developments related to the anti-China protest-turned-riot in Vietnam.)