DPP lauds speaker for satisfying student demand on oversight law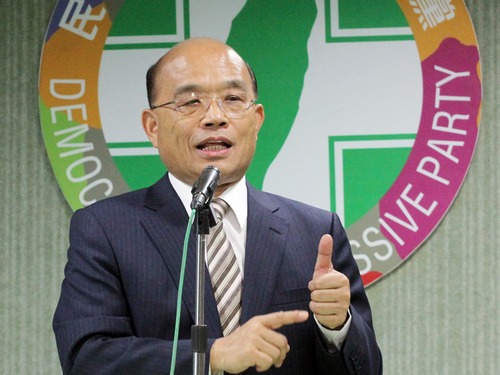 Taipei, April 6 (CNA) Opposition Democratic Progressive Party (DPP) Chairman Su Tseng-chang praised Legislative Speaker Wang Jin-pyng on Sunday for having "concretely responded" to protesting students' demands to enact a law overseeing all cross-straits agreements before reviewing a controversial services-in-trade pact with China.
Flanked by ruling and opposition lawmakers, Wang visited the students, who have occupied the Legislature for 21 days, and announced he would not call a "consultative meeting" between legislative caucuses before the oversight law has been legislated.
The speaker's move won opposition kudos, but met with reservation from the Presidential Office and ruling Kuomintang caucus, whose deputy leader, Fai Hrong-tai, said he was astounded by Wang's announcement and felt the entire party had been sold out by Wang. Further, President Ma Ying-jeou still would like to see the trade service pact passed as soon as possible, his spokeswoman, Garfie Li, said.
The DDP's Su added, "I believe the latest development is the first step towards an all-satisfying solution" to the current impasse at the Legislature, where students protesting the service trade agreement are facing mounting pressure to return the main chamber to lawmakers.
Students have not just been protesting the "black-box procedures" for negotiating the pact with China and its contents, but also highlighting "serious trouble" in the country's constitutional democracy, in that it no longer serves as a tool to solve problems when the popularly elected government has been adamant in pushing ahead a policy in violation of the majority of the public's opinion, Su said.
As the majority view of the general populace has been "trampled upon" repeatedly, Su continued, injustices against the younger generation have not been addressed and social justice remains illusive, as improvements in cross-Taiwan Strait ties have churned out benefits for only a few, Su said.
He lauded the students for "having done a good job" at this juncture in history and urged President Ma Ying-jeou to listen to and understand students' calls before responding to them.
Related stories:●April 6: Ruling party lawmaker blames speaker for selling out Kuomintang●April 6: Legislative speaker promises to enact cross-strait monitoring law first (update)●March 26: China pact deadlock can be best resolved in Legislature: president●March 26: Talk of the Day -- Legislators most to blame for parliamentary paralysis
(Click here for the latest on the ongoing protest and developments since the Legislature occupation starting March 18.)