Speaker promises cross-strait monitoring law first (update)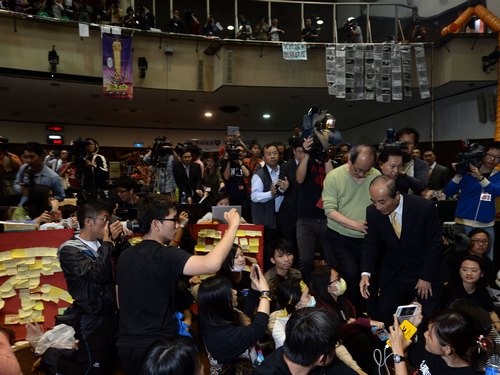 Taipei, April 6 (CNA) Legislative Speaker Wang Jin-pyng promised Sunday to enact a law monitoring Taiwan's pacts with China before the Legislature reviews the cross-strait trade-in-services pact during his high-profile visit with the protesters occupying the Legislative Yuan.
"In consideration of the overall social costs, I who hold the power of legislative speaker solemnly state that before the cross-strait agreement monitoring regulations have been put into law, I will not convene consultations between the ruling and opposition legislative caucuses on issues related to the cross-strait trade-in-services agreement," he said in a prepared statement.
The move is largely in line with calls from the protesters, who have occupied the Legislative Yuan's main chamber since March 18 and are calling for the monitoring law to be passed before lawmakers can review the long-delayed services agreement.
Wang said that he has overseen meetings between representatives of the ruling and opposition parties since after protesters charged into the Legislature on March 18 to try and smooth out their differences.
But he expressed his "worry and apology" that none of the meetings have produced results.
While he does not fault the ideal-driven student protesters, he questioned whether their choice to occupy the Legislature was appropriate.
"Your long-term occupation of the legislative chamber has made (us) unable to deliberate a number of bills, impacting the nation and its people, and this is something that the people cannot accept," he said sternly.
"Keep charging ahead with your ideals," he urged, "but return to your positions (in the classroom)." He encouraged the young activists to continue to be a strong but gentle, rational and peaceful force of democracy.
After his brief statement, Wang entered the main chamber to visit the protesters there.
His appearance at the chamber was greeted with applause from the protesters, who called it the first "good-will response" that they had seen during their 21-day occupation.
(By Claudia Liu, Maubo Chang and Lilian Wu)ENDITEM/WH
Related:●April 6: Protesters to decide whether to end occupation of legislature
(Click here for the latest on the ongoing protest and developments since the Legislature occupation starting March 18.)