Student leader of protest at Cabinet building released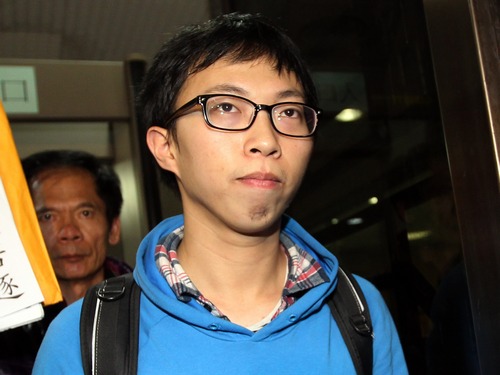 Taipei, March 25 (CNA) The Taipei District Court ruled Tuesday against detaining a graduate student who claimed to have led a protest that escalated into a break-in at the Executive Yuan building Sunday night.
Wei Yang, 26, was arrested during the failed attempt to occupy the Cabinet and was later accused of instigation, vandalism, trespassing and obstruction of public duties.
The prosecutors' request for him to be detained, on grounds that he would collude with others, was turned down by the district court, which ruled that there was no evidence to support the allegations against him.
Wei, a graduate sociology student at National Tsing Hua University, was cheered by some of the school's teachers and other students when he and his mother walked out of the court.
Expressing gratitude for the show of support, Wei said he had been under a great deal of mental pressure since he was arrested.
Wei said that when he arrived at the Cabinet complex Sunday evening, he took a microphone and was trying to bring order to the chaotic gathering as more and more students assembled outside the Cabinet.
He was unaware that some protesters were planning to break into the main building and was surprised to be pinpointed as the instigator of that action, he said, adding that he does not know who started breaking windows on the building.
Taipei District Prosecutors' Office spokesman Huang Mou-hsin told the press that the office will decide whether to appeal the court's release of Wei.
Wei admitted that he was among the first students to climb over the barbed wire barricades around the Executive Yuan compound around 7:30 p.m. Sunday, using blankets, as the 40 or so police officers assembled there changed shifts.
"Sorry, I know it's irresponsible to mobilize people like this, but come to the Executive Yuan to give support if you are willing," he had posted on his Facebook page earlier in the day.
After gaining entry to the Executive Yuan compound, the student protesters broke into the main building and damaged some facilities, vowing to prevent the government from opening Monday.
Around 5,000 police in full riot gear managed to clear hundreds of protesters from inside and around the complex by 5:00 a.m. Monday, advancing through the crowds in several pushes and eventually using high-pressure water cannons.
(By Page Tsai and Elizabeth Hsu)ENDITEM /pc
Related stories:March 24:●Prosecutors seek to detain student organizer of Cabinet break-in●'Out of control' protests prompt action: premier (update)●Executive Yuan protesters dispersed with water cannons
March 23:●Protesters enter Executive Yuan, extending occupation movement frontline
(Click here for the latest on the ongoing protest and developments since the Legislature occupation starting March 18.)