President respects same-sex marriage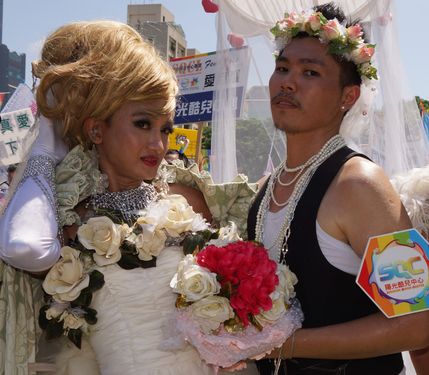 Taipei, Nov. 22 (CNA) Same-sex marriage is an important human right and cultural issue, President Ma Ying-jeou said Friday, but he cautioned that it would take a "high degree of consensus" to make it a reality in Taiwan.
"My attitude of respect and tolerance has always been the same," Ma said in response to a question raised at a meeting with foreign correspondents in Taipei.
Ma noted that when he was the mayor of Taipei 15 years ago, the city was the only one in Taiwan and one of the few in the world that had a budget for gay rights activities at the time.
"Taipei has become the most gay-friendly city in Asia with much acceptance and respect," Ma said.
The conventional marriage system, however, has been developed over thousands of years of history, and it will take a "high degree of consensus" for same-sex marriage to succeed, he said.
In June, the United States Supreme Court ruled as unconstitutional a law barring the federal government from recognizing same-sex marriages legalized by the states, and many local activists expressed hope that Taiwan would follow suit by legalizing same-sex marriage.
(By James Lee)ENDITEM/ls