2020 Elections: In presidential race, Tsai ahead but can Han come back?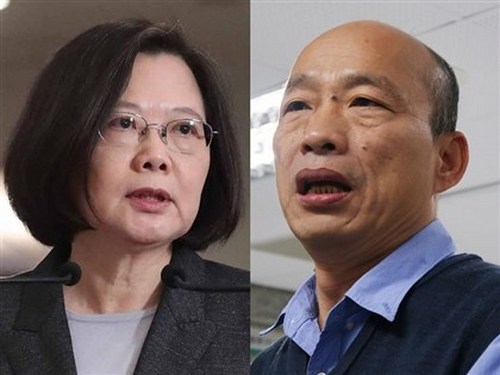 Taipei, Oct. 6 (CNA) With fewer than 100 days left before Taiwan's presidential election in January 2020, the race is setting up to be a polarized contest with stark contrasts, including on China, between a clear front-runner and a challenger looking to mount a comeback.
President Tsai Ing-wen (蔡英文) of the Democratic Progressive Party (DPP) currently holds a solid lead in most polls over her opponent, Kaohsiung Mayor Han Kuo-yu (韓國瑜) of the opposition Kuomintang (KMT).
According to the latest survey released by TVBS News on Sept. 30, Tsai topped Han by a 50-38 percent margin, after having trailed 48-44 percent on July 17 and 48-45 percent on Aug. 7.
A survey by Apple Daily released on Sept. 23 showed Tsai with a 44.4-32.9 percent lead, the eighth consecutive defeat for Han in polls conducted by the newspaper.
Tsai's campaign will likely focus on defending Taiwan's sovereignty against Chinese pressure, a theme she has played up since the beginning of the year and later helped by the protests in Hong Kong against Beijing's encroachment to bolster what were sagging approval ratings.
Han and the KMT, on the other hand, which have generally been more conciliatory to China, will try to focus on what they see as the DPP's weakness on domestic issues, but they will have to rebound from what has been a few bad months for them politically.
DPP presidential election campaign spokesman Ruan Jhao-syong (阮昭雄) said another key for Tsai in maintaining her lead will be to strengthen her grassroots support until election day.
To achieve that goal, DPP Chairman Cho Jung-tai (卓榮泰) has ordered party officials to push Tsai's economic record over the past three years.
That includes the lowest unemployment rate in 18 years, higher starting salaries for university graduates, and a record number of Taiwanese businessmen from abroad, especially from China, investing at home (to get around U.S. tariffs on Chinese made goods), he said.
However much the race focuses on domestic issues, though, China will still be front and center in an election pitting the pro-Taiwan independence DPP against the more pro-China KMT.
Han and the KMT insist on the "1992 consensus" as a basis for relations with China. It essentially agrees to the idea of "one China" and Taiwan being a part of that but with different definitions of what that "one China" is.
It was the formula used to underpin better relations between 2008 and 2016 between Taipei and Beijing when President Ma Ying-jeou of the KMT was in power.
The DPP rejected the consensus when Tsai took office in May 2016, saying that it in fact never existed, and the party has always opposed the idea that Taiwan is part of China.
Tsai and the DPP have also accused the KMT and Han of trying to move Taiwan toward Beijing's "one country, two systems" trap through their recognition of the consensus.
DPP Legislator Lee Chun-yi (李俊俋), meanwhile, remains concerned about possible uncertainty ahead.
He fears that China may put greater pressure on Taiwan and meddle in the upcoming elections by using a more diverse and sophisticated approach to erode Tsai's chances.
Such a scenario could pose a severe challenge for Taiwan in terms of national sovereignty and democracy, he warned.
At the same time, however, the ongoing protests in Hong Kong and Beijing's heavy hand in trying to stop them along with China's recent poaching of two of Taiwan's allies in the Pacific have only seemed to help Tsai, convincing some voters that closer ties with China may not be in Taiwan's interest.
According to DPP campaign officials, the presidential election will also turn into a choice between the personal backgrounds and characteristics of the two candidates, which they said contrast sharply.
The DPP has tried to portray Han as a womanizer who enjoys gambling and drinking.
But Tsai has faced controversies of her own recently, including questions surrounding her doctoral dissertation at the London School of Economics and a cigarette smuggling scandal involving Presidential Office security officers.
The events seem to have only had a limited impact on Tsai's approval rating, they said, but warned that the party could not become complacent.
With the DPP fully united to push for Tsai's re-election bid, Han faces long odds to pull back into the race, especially with the lack of unity in the KMT.
The party is reeling from the defection of business tycoon Terry Gou (郭台銘) and the lack of support for Han from other party heavyweights, including former Legislative Speaker Wang Jin-pyng (王金平), who were unhappy with how the party's primary was run.
KMT sources admit that Han is trailing Tsai in its own internal polls, but they say the margin is within 10 percentage points. They argue that many respondents have preferred not to reveal their support for Han, and believed backing for him has been understated.
Party officials also believe that with Gou deciding against an independent run for the presidency after losing to Han in the KMT primary, KMT supporters are likely to show solidarity and rally behind Han.
In terms of election strategy, KMT sources said Han's staff will take charge of his presidential campaign while the party will be responsible for organizing support groups to draw backing from the rank and file.
Former Premier Simon Chang (張善政), who leads Han's advisory team, has come up with many viable policy proposals touching on energy, youth development, long-term care, and climate change, hoping to break the public's stereotype of Han as being disengaged from the issues.
"Han is a person from the rank and file. He is by no means a so-called bumpkin," Chang said.
In a bid to lure greater support from young voters, a demographic in which Han is lagging badly behind Tsai, Han's campaign is planning to organize seminars across Taiwan in November in which Han will hold a dialogue with young people, Chang said.
"We know the future challenge will be hard, but we will stick to our own rhythm and pull all our resources together to get victory," a KMT source said.