Theater director, actor Hugh Lee dies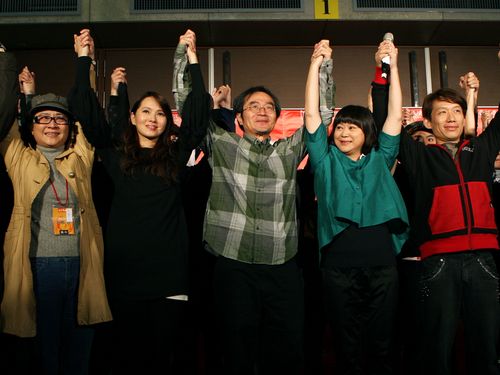 Taipei, July 2 (CNA) Hugh Lee, founder of one of Taiwan's leading theater groups -- the Ping-Fong Acting Troupe -- died in Taichung Tuesday at the age of 58, after battling cancer for the past three years.
The theater group announced its founder's death Tuesday morning and said that his wife, actress Moon Wang, and their two children were with him when he passed away at 3:34 a.m.
Lee, born in Taipei in 1955, first rose to stardom for his comedic performances in television shows in the 1980s and won a Golden Bell Award in the "actor with great potential" category in 1982.
The actor also began working in local theater around that time and was one of the two actors featured in the 1985 play "The Night We Became Crosstalk Comedians," the first production of the now renowned Performance Workshop co-founded by Stan Lai.
Lee set up Ping-Fong in 1986 and was the group's main actor, director and writer before announcing in December 2011 that he was taking a break from the stage because of bowel cancer diagnosed the previous year.
Lee's works, such as "Can Three Make It," were known for satirizing contemporary political and social events and for using a few actors to play tens of characters.
One of Lee's most notable productions was the Fong Ping trilogy.
Consisting of three plays, the series tells the story of a fictional "Fong Ping" theater group's disastrous attempts at staging its productions, reflecting the challenging environment local performance groups face.
He was the first recipient of the National Award for Arts in the drama category when the award was established in 1997, honored for his works that combine traditional and modern art formats and efforts to build a professional theater group.
In a recording played during a press conference held by his family Tuesday, Lee said he hoped that people would appreciate his life in the theater through the 27 scripts he left behind.
TV presenter and actor Sam Tseng has been asked to host the funeral, the date of which has not been set, and his job, Lee's son said, is to make people laugh because Lee wanted people to feel they are going to see a performance.
Ping Fong said its performances will go on as scheduled, and fans planning to attend his funeral are welcomed to register through the group's website and encouraged to bring a ticket stub from a past Ping-Fong Acting Troupe performance.
(By Sabine Cheng and Kay Liu)enditem/ls