Cabinet approves plan to attract, retain more international students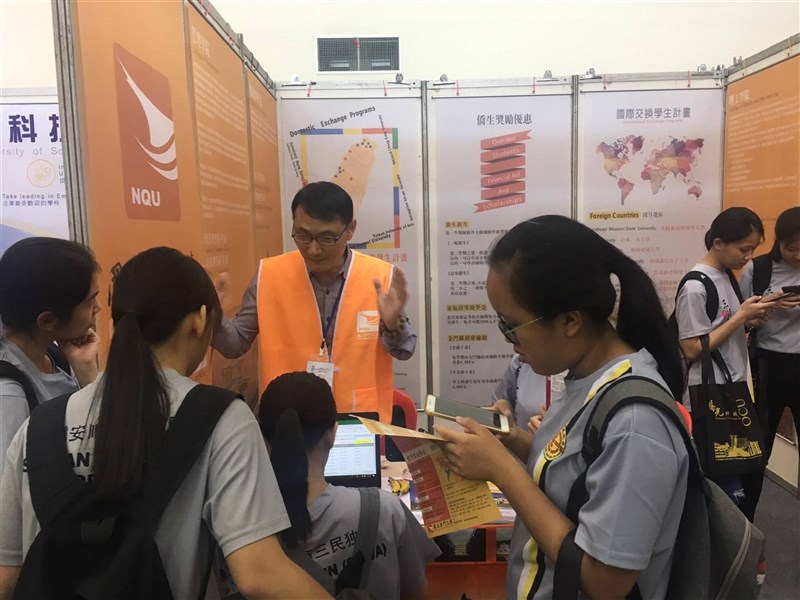 Taipei, Sept. 7 (CNA) The Cabinet on Thursday approved a plan for the Ministry of Education (MOE) to set up 10 overseas offices, many in Southeast Asian countries, and launch a host of new degree programs with the goal of attracting and retaining thousands of international students in Taiwan by 2030.
According to the MOE, the proposal will require NT$5.2 billion (US$162 million) in funding over a five-year period from 2024 to 2028.
During that time, the ministry will set up 10 overseas offices, with a focus on New Southbound Policy (NSP) countries like Vietnam, Indonesia, and the Philippines, with the aim of attracting 320,000 international students by 2030 and retaining at least 210,000 after they graduate, the ministry said.
Speaking to reporters, Yang Yu-hui (楊玉惠), head of the MOE's Department of Technological and Vocational Education, said the plan will be built around degree programs customized to meet the talent needs of Taiwanese corporations, mainly in STEM-related fields, finance and semiconductors.
Students will enroll in two-year degree programs, during which time they will receive scholarships from the Cabinet's National Development Fund and living stipends from the corporation sponsoring their program. They will then be required to remain in Taiwan and work at the corporation for at least two years after graduating, she said.
Yang said the plan is distinct from Taiwan's current international student recruitment model, which focuses on enrolling students right out of high school.
Instead, the plan mainly involves dual degree programs organized under a university consortium, in which students spend two years studying in their home countries and then two years studying in Taiwan, while receiving degrees from both institutions, Yang said.
There will be separate courses for other types of students, such as two-year degree programs open to vocational school graduates and two-year postgraduate options, she added.
The proposal also differs from Taiwan's current "industry-academia collaboration programs" for international students, several of which have been investigated over instances in which students were forced to work long hours as "interns" in factories or slaughterhouses.
Under the planned MOE programs, Yang said, students will receive full tuition scholarships from the government, allowing them to focus solely on their studies.
The corporation sponsoring the program will also provide them with a living stipend of "at least NT$10,000 per month," as well as internship or part-time work opportunities while they complete their degree, she said.
After graduating, the students will be required to remain and work in Taiwan for two years, or, if they fail to do so, will have to pay back the entirety of their government scholarship, Yang said.
Students will also have a separate contract with their corporate sponsor, she added.
However, in cases where a corporation's manpower needs change and they are unable to offer a job to a student after they graduate, the student will not have to repay the funds received from the company or the government, Yang said.
In organizational terms, an MOE official explained that the initiative will be based on the establishment of two "university consortiums": one with colleges in Europe and the Americas focused on "academic exchanges and cooperation," and one in NSP countries focused on "industry-academia collaboration."
If it is approved by the Legislature and able to reach its targets, the proposal will sharply lift both the recruitment and retention of international students in Taiwan.
The total number of incoming international students in Taiwan was around 17,000 in 2021 and 19,000 in 2022, according to Yang, whereas the MOE proposal aims to enroll a total of 320,000 by 2030.
In terms of retention, only 40-50 percent of international students in recent years have remained in Taiwan after graduating, while the MOE plan sets a goal of retaining 210,000, or 70 percent of target enrollment, Yang said.