St. Lucian ambassador donates books to Taiwan's national library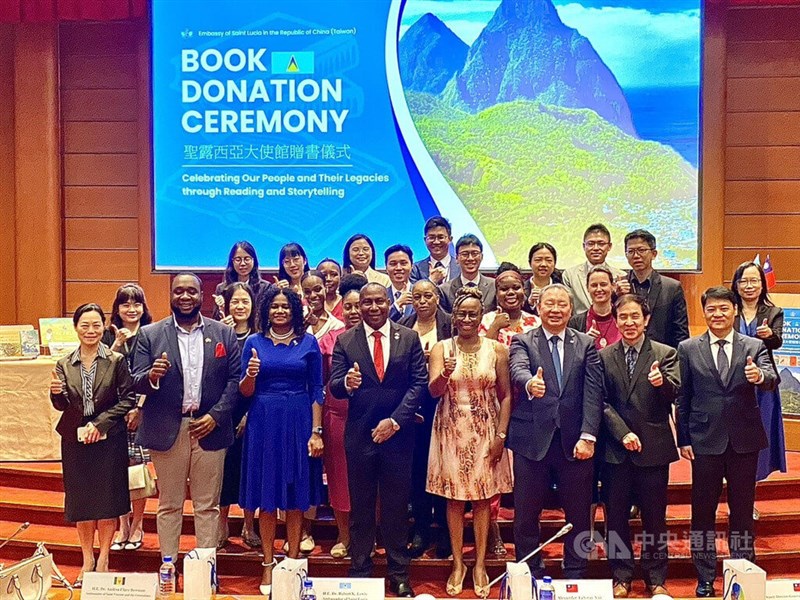 Taipei, May 30 (CNA) Saint Lucian Ambassador Robert Kennedy Lewis donated 15 books that reflect the Caribbean nation's culture to Taiwan's National Central Library on Tuesday, in a move showcasing "cultural diplomacy."
Of the books donated, 3 were authored by St. Lucian Nobel laureates William Arthur Lewis and Derek Anton Walcott, and one was by St. Lucian politician Calixte George Sr., the ambassador said at the donation ceremony held at the library in Taipei.
The donation was made in part to honor an agreement St. Lucia had with Taiwan's three other English-speaking Caribbean allies: Belize, St. Christopher and Nevis, and St. Vincent and the Grenadines (SVG), which have all fulfilled the pledge, the ambassador said.
By donating these 15 books to the National Central Library, Lewis said he hoped they would help Taiwanese people better understand St. Lucian culture and social life, and the aspirations and achievements of the St. Lucian people.
"The books should also help to foster and boost ongoing efforts to strengthen the bonds of friendship and cooperation that exist between Saint Lucia and the Republic of China, Taiwan," the ambassador said.
The titles should serve as instruments of "cultural diplomacy" and are a token of the ever-growing friendship between the government and people of St. Lucia and their Taiwan counterparts, Lewis said, expressing confidence that the two allies will continue to build and expand cultural exchanges.
SVG Ambassador Andrea Bowman, Belizean Ambassador Candice Augusta Pitts, and St. Kitts and Nevis Ambassador Donya L. Francis bore witness to the donation.
During his remarks, Deputy Minister of Foreign Affairs Yui Tar-ray (俞大㵢) thanked the Embassy of St. Lucia for its generosity and said the interactions with books are precious in an age when the public's preferred format for reading has shifted to e-books.
Underlining the importance of cultural exchange, Yui said it was a topic he discussed with St. Lucian Deputy Prime Minister Ernest Hilaire during his visit to Taiwan from May 22-26.