Oscar-winning director Daniel Kwan dedicates film to his mother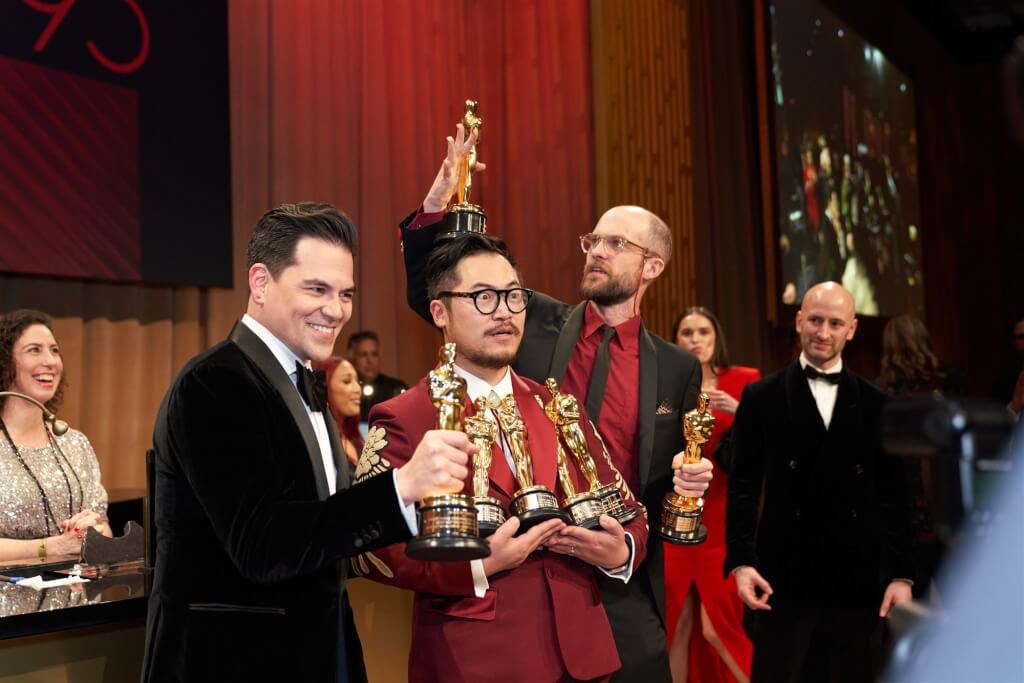 Los Angeles, March 12 (CNA) Director and co-producer of the Oscar-winning absurdist comedy-drama "Everything Everywhere All at Once" Daniel Kwan (關家永) dedicated Sunday the movie to his Taiwanese mother, who he said supported his creativity growing up.
"She is someone who sacrificed a lot for her kids," Kwan, 35, told CNA backstage at the Oscars.
The movie, released in early 2022, received a leading 11 nominations at the 95th Academy Awards on Sunday, and won seven, including Best Picture, Best Director, Best Actress, Best Supporting Actor, Best Supporting Actress, Best Original Screenplay, and Best Film Editing.
The best director award was won by Kwan and Daniel Scheinert, whom he also worked with for the 2016 fantasy film "Swiss Army Men."
A Massachusetts native born to immigrant parents from Taiwan and Hong Kong, Kwan described his mother as a person who loves to change her passions every couple years.
"She's always chasing after new dreams, and she's always doing a really good job of it, and then getting bored and moving on to the next thing," he said.
The Asian-American director recalled being told by his mother that she never really wanted to have children.
"I think that actually makes it even more beautiful knowing how much she gave up for me and my siblings," he said.
Growing up, Kwan remembered being tutored by his mother for two or three years because she thought his writing had deteriorated at school, and that the reason for pulling him out of there was to protect his "creativity."
"At the time, I didn't know why she did that. But now, obviously, it paid off. So that's the kind of mom she was. And yeah, this film is a tribute to that," he said.
Jonathan Wang (王慶), who produced the movie, said his father who has since passed away was also from Taiwan.
Wang described his father as someone who was very passionate about film.
"He was a movie buff in the most Taiwanese dad way when he would always get movie titles wrong," he said.
Wang won the Best Picture award at this year's Oscars together with co-producers Kwan and Scheinert.
"Everything Everywhere All at Once," which features a predominately Asian cast starring Malaysian actress Michelle Yeoh (楊紫瓊), tells the story of Chinese immigrant Evelyn Wang, played by Yeoh, who gets thrown into a mindboggling adventure to save the world by discovering and channeling the powers and knowledge of who she "could" have been in other parallel universes.
Aside from Yeoh, the film also stars horror-genre royalty Jamie Lee Curtis, as well as Ke Huy Quan, who is best known for portraying the character Short Round in the second installment of the "Indiana Jones" franchise.