Anna Netrebko's Taiwan concert canceled over her ties to Putin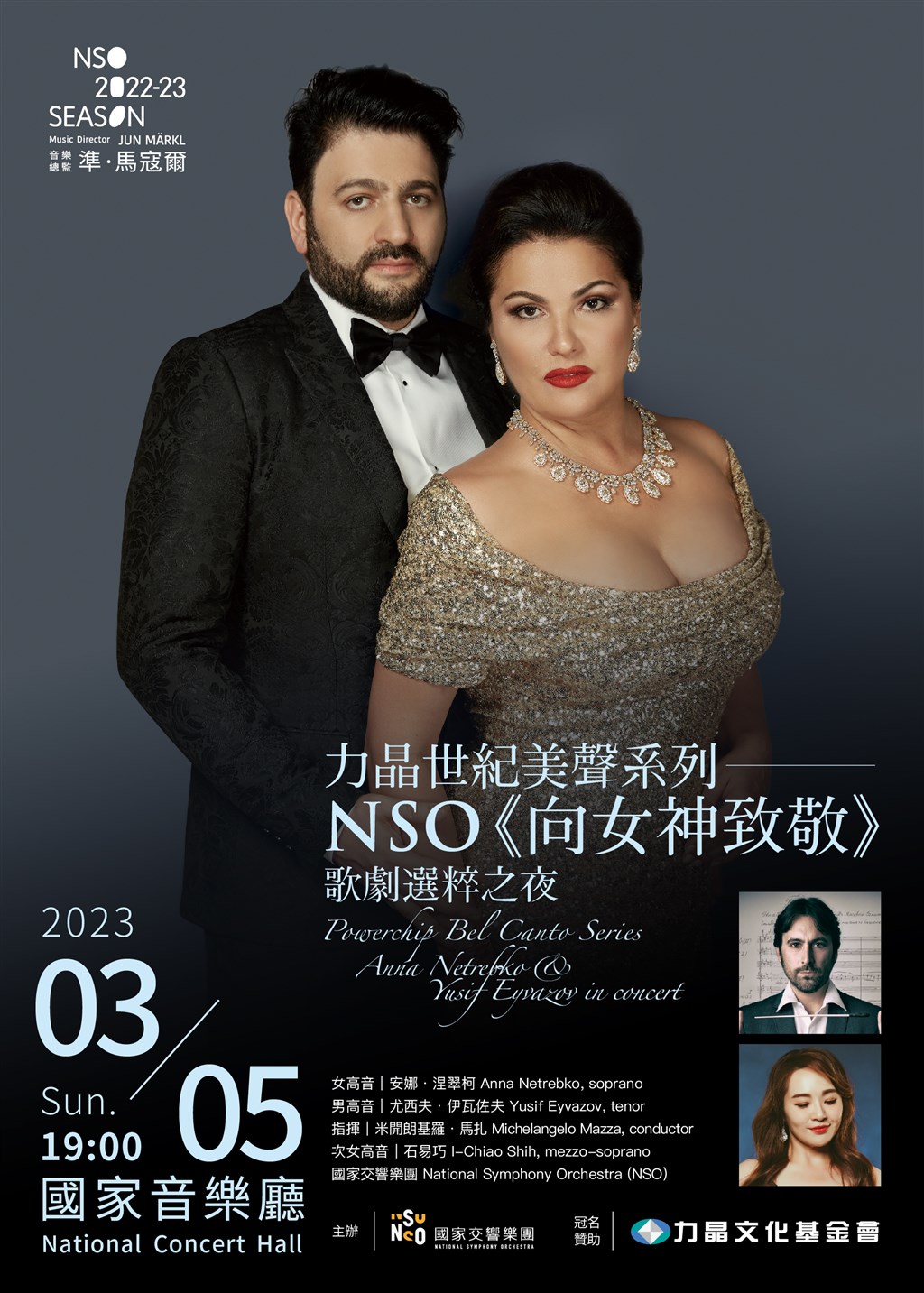 Taipei, Feb. 28 (CNA) Taiwan's National Symphony Orchestra (NSO) on Tuesday announced the cancellation of a concert by Russian-born opera star Anna Netrebko this weekend amid criticism of the singer's position on Russia's war in Ukraine.
In a statement posted on its website, the NSO said that following discussions with Netrebko's management company, it decided to cancel the concert "for security reasons" in light of concerns raised by various quarters of the society.
A full refund will be given from 12 p.m. March 1 to 1 p.m. March 13, the NSO said.
Netrebko was originally scheduled to perform, along with her husband, the tenor Yusif Eyvazov, at 7 p.m. March 5 at the National Concert Hall in Taipei.
Earlier Tuesday, the NSO defended its plan to stage the concert, citing Netrebko's condemnation of Russia's war in Ukraine in March 2022 and also noting that the singer has performed in multiple European countries that oppose the Russian invasion in the past year.
In addition, the orchestra also cited remarks by the mayor of Regensburg, Germany, where Netrebko performed last year, in which the mayor argued that the singer's position was clear and warned against "blanket condemnations" of Russian people.
However, after the Ministry of Culture (MOC) issued a statement in the evening saying that the National Performing Arts Center, which the NSO is affiliated with, should handle the issue "appropriately," the NSO announced the concert's cancellation.
Taiwan's position on the war in Ukraine had "no room for ambiguity," the MOC said in the statement.
Following Russia's full-scale invasion of Ukraine in February 2022, Netrebko, who also holds Austrian citizenship, released a statement in which she voiced opposition to the war but also expressed disagreement with forcing artists to voice their political opinions in public or "denounce their homeland."
The statement came in for criticism due to its failure to condemn Russian President Vladimir Putin, and after several venues canceled Netrebko's scheduled shows, she pulled out of all her remaining engagements and announced that she would take a break from performing.
On March 30, Netrebko published another statement announcing that she would resume performing in Europe in May, while also more forcefully condemning Russia's invasion of Ukraine.
In the statement -- which in turn generated a backlash in Russia -- Netrebko said she was not a member of any political party or ally of any leader in Russia, and had only met with Putin on a handful of ceremonial occasions.
Against this background, the NSO announced earlier this year that it had invited Netrebko to headline a March 5 memorial concert for opera great Maria Callas.
The booking initially drew mixed reactions on social media, though opposition has grown as the concert date approaches.
In a Twitter post on Monday, Oleksandr Shyn, a Korean-Ukrainian student activist living in Taiwan, urged his followers to contact the orchestra and demand that the performance be canceled.
"It's upsetting to discover that this [friend of Putin] and invasion justifier can freely come to Taiwan, perform here and make money, while the death machine she endorsed and actively helped create keeps killing the people of Ukraine," he wrote.