TANG PRIZE
/
Law scholar Cheryl Saunders wins Tang Prize in Rule of Law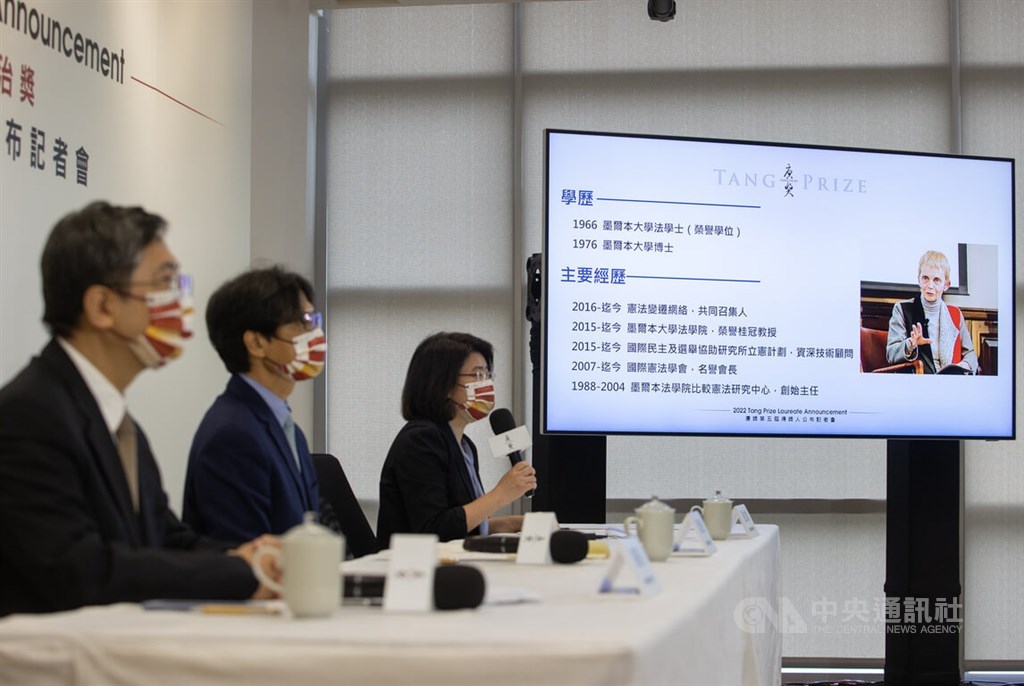 Taipei, June 21 (CNA) Cheryl Saunders, a laureate professor emeritus at the University of Melbourne, was awarded the Tang Prize in Rule of Law on Tuesday in recognition of her decades-long studies and contributions in the field of comparative constitutional law.
Saunders, who is also president emeritus of the International Association of Constitutional Law, was recognized for her "pioneering contributions to comparative public law, and, in particular, her work on constitution-building in the Asia-Pacific region," said Yeh Jiunn-rong (葉俊榮), who chairs the Tang Prize Selection Committee for Rule of Law, at a press conference in Taipei on Tuesday.
Chang Wen-chen (張文貞), a professor at National Taiwan University's College of Law, said the most important reason for Saunders to be awarded this year's Tang Prize in Rule of Law was because of "her enormous leadership and efforts in constitutional building in the Asia-Pacific region."
The Asia-Pacific is characterized by its ethnical diversity, large population, as well as very complex historical, cultural, and political systems, Chang said.
"Professor Saunders was really one of the very first scholars to be engaged in all these difficult challenges with her leadership (and) with the organizations she led."
In a pre-recorded video, Saunders said she was "overwhelmed" and "humbled" to have received the latest Tang Prize in Rule of Law, which has been given out biennially since 2012.
"I know the other recipients of the Tang Prize for the rule of law. I admire them all tremendously," Saunders said, adding that she felt honored to join the company of other previous laureates.
Born in 1944 in Quetta, British India, Saunders moved with her family to Melbourne at the age of 5 and has called the city home ever since.
Saunders has taught at her alma mater, the University of Melbourne, for more than three decades, and served as the founding director of the university's Centre for Comparative Constitutional Studies.
She began her academic career in Australian constitutional law but later expanded her expertise to comparative public law, including comparative constitutional law and methods, intergovernmental relations, and constitutional design and change.
The 77-year-old scholar and educator received the Officer of the Order of Australia in 1994 for her services to the law and public administration, and was also honored with the Australian government's Centenary Medal in 2003 for her "service to constitutional law and as President of the Administrative Review Council."
She is the editor of the legal journal, Public Law Review, and published "The Australian Constitution: A Contextual Analysis" in 2011.
Saunders is the fourth individual laureate of the Tang Prize in Rule of Law, following South African lawyer and activist Albie Sachs in 2014, former United Nations High Commissioner for Human Rights and former justice of the Canadian Supreme Court Louise Arbour in 2016, and the late Israeli legal and political philosopher Joseph Raz in 2018.
In 2020, the rule-of-law prize was jointly won by the Bangladesh Environmental Lawyers Association (BELA), Colombia-based Dejusticia: The Center for Law, Justice and Society, and The Legal Agenda of Lebanon.
The Tang Prize was established in 2012 by Taiwanese entrepreneur Samuel Yin (尹衍樑), who is also chairman of the Ruentex Group, to honor individuals or organizations that have made significant contributions to human society in four categories -- sustainable development, biopharmaceutical science, Sinology, and the rule of law.
The winners in each category share a cash award of NT$40 million (US$1.34 million) and an additional NT$10 million in research funding, along with a gold medal and a certificate.
View All