A retired doctor's gift to Tainan's Xushi Music Library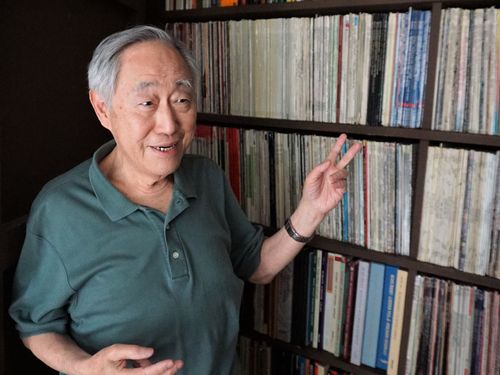 Taipei, Oct. 4 (CNA) Yeh Sze-ya (葉思雅), a retired Taiwanese-American doctor living in Arcadia, California, donated his collection of more than 10,000 CDs and vinyl records to Xushi Music Library (許石音樂圖書館) in Tainan this year.
After moving to the U.S. in 1967 to pursue his studies, Yeh started the collection along with his wife Grace, based on their shared passion for classical music, which has been a staple of their 55-year marriage.
Making the donation was no easy task: Yeh sorted and cataloged his collection for no less than three months, working eight hours a day.
Altogether, he donated 6,350 CDs and 4,350 vinyl records, shipped in more than 100 containers to their new home in Tainan, where they will be made available to the next generation of music lovers.
Though Yeh knew he was in for a challenge, he said that making the donation was a way of "extending life" - both his own and that of the music.
The story of Yeh's twin passion for medicine and music began more than six decades ago, as he recounted in a recent interview with CNA.
After graduating from National Taiwan University College of Medicine, Yeh studied under professor Edward H. Hon (洪恩) at Yale University in 1967, taking a position as a researcher.
One attraction of being at Yale was its close proximity to New York City, where the young couple would take day trips, packing their schedule so full of visits to theaters and record stores that they often forgot to eat.
Meanwhile, Yeh became a recognized authority in the field of gynecology, later moving the family to Philadelphia to head the Department of Obstetrics and Gynecology at the city's Einstein Medical Center.
(Photo courtesy of Yeh Sze-ya)
( Photo courtesy of Yeh Sze-ya)
(Photo courtesy of Yeh Sze-ya)
In 2002, aged 65, Yeh retired from the hospital, partly to take care of his wife, who had recently suffered a minor stroke and partly to start a second chapter of his life, devoted increasingly to music.
His first step was to begin teaching a classical music appreciation class at a local retirement home, a position he held for more than three years.
In that class, where the average age was 78, and many of the students had little to no musical background, Yeh said his goal was to make the students understand that "classical music is not some ivory tower; the musicians are people just like us, with their own unique thoughts and moods."
In 2005, when the couple moved to California, Yeh got involved with the Taiwanese-American community organization, The Taiwan Center Foundation, teaching classical music to members of the group's choir.
However, after more than half a century collecting music, and with his hearing beginning to fail, Yeh said the time had come to donate his collection and share it with others, so that it can bring them the same comfort and pleasure it has provided him throughout his life.
From their collection, Yeh and his wife each selected a single album to keep before making the donation. Yeh's choice was Franz Schubert's String Quintet in C major, featuring Pablo Casals on the cello. Just mentioning it brought a smile to his face.