Short film wins grand prize at 2019 Taipei Film Awards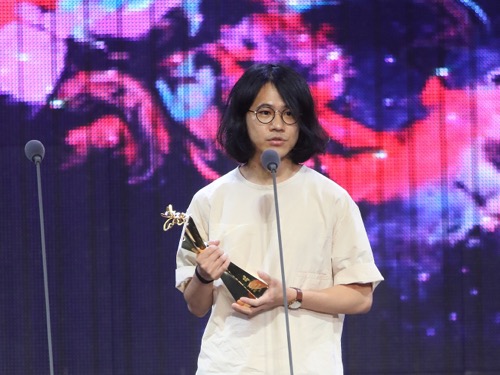 Taipei, July 14 (CNA) The short film "Last Year When the Train Passed By" won the NT$1 million (US$32,202) Grand Prize at the 2019 Taipei Film Awards on Saturday.
The 18-minute film, in which the director asks residents what they were doing at the time he took a photo of their houses from a moving train a year earlier, was touted by the jury for its pioneering and experimental style.
The film reflects a warm and touching theme, while focusing "on fine details that are forgotten through time," according to the jury.
It also redefines how time passes and further pushes the boundaries of aesthetics in moving pictures.
"Last Year When the Train Passed By" also grabbed the Best Short Film award.
The film's director, Huang Pang-chuan (黃邦銓), said his films are mostly shot with negatives, so he intends to use the NT$1 million prize money to buy negatives to shoot future films.
In a statement, Huang said he believes in the human connection in his work and has a great appreciation for all things and people he comes across.
"I think making film is about going to places so that one can meet and connect with people," he said.
Liu Yin-shan (劉引商, left), Xiao Hu Dou (小戽斗, center), and Lee Yi-chieh (李亦捷, right)
The Best Narrative Feature award was won by "Dad's Suit," a film that projects the theme of old age, declining health and death. The jury commended the film for its portrayal of real and sincere emotions that allow people to reminisce about the past.
Hong Po-hao (洪伯豪), the film's director, said he hoped the film will raise more awareness and support for the elderly, which was his main motivation for making the movie.
Meanwhile, the Best Actor, Best Supporting Actress, and Best Cinematography awards were given to Xiao Hu Dou (小戽斗), Phoebe Huang (黃嘉千), and Chou I-wen (周以文), respectively, for their roles in "Dad's Suit."
The 71-year-old Xiao Hu Dou said he has been acting since he was 18 and was really happy to win his first Best Actor award at the Taipei Film Awards.
Phoebe Huang (黃嘉千)
In his acceptance speech, he said he has come a long way in his career of over 50 years but reminded the audience to always put family first.
"No matter how busy you are from work, you always have to put your family first," he said.
The Best Documentary and Best Director awards were given to Tsai Ming-liang (蔡明亮) for the film "Your Face," an experimental film that shoots the faces of Lee Kang-sheng (李康生), an actor who often appears in Tsai's films, and other actors in the film who are not well-known.
The film was praised as a breakthrough in bold innovation as it shoots closeups of the faces of its 13 cast members.
"When 'Your Face' was nominated I was very happy because it is an experimental film, and it was hard to figure out which category it should be in. I thank the 13 people who starred in the film, and I thank Lee for letting me film him for the last 27 years," Tsai said.
Tsai Ming-liang (蔡明亮, left) and Lee Kang-sheng (李康生)
Lee also accepted the Best Music award on behalf of Japanese composer Ryuichi Sakamoto for his music in the film.
The Best Actress award was given to two people for the first time -- Liu Yin-shan (劉引商) for her role in "A Trip With Mom" and Lee Yi-chieh (李亦捷) for her role in "Wild Sparrow."
The 81-year-old Liu thanked her father who passed away last month at the age of 105.
"I wanted to share this honor with him (Liu's father), but he is not here to see it. I thank you for taking me to enroll in acting school when my mother said she didn't want me to be actor," she said.
Similarly, Lee asked people to appreciate those around them, saying that as an actress she gets very busy but she has people around her who support her and she appreciates them very much.
The awards for Best Supporting Actor and Best Makeup and Costume Design were won by Lin Ho-hsuan (林鶴軒) and Eleven Chen (陳漪) for their roles in the narrative film "Secrets in the Hot Spring," while the Best New Talent award was won by Tsai Jai-yin (蔡嘉茵) for her acting in "Heavy Craving."
Lin Ho-hsuan (林鶴軒)
A total of 359 films -- 47 feature films, 70 documentaries, 199 short films and 43 animations -- were submitted to the awards' selection committee this year. Thirty films, consisting of 12 feature films, five documentaries, eight short films, and five animations, were chosen for the competition.
The awards, founded in 1988 as the China Times Express Film Awards and renamed the Taipei Film Awards in 1994, honors the best films in Taiwanese cinema, in addition to elevating the visibility and promotion of Taiwanese films, according to the Taipei Film Festival website.