Taiwan's WTO mission hosts orchid show for third straight year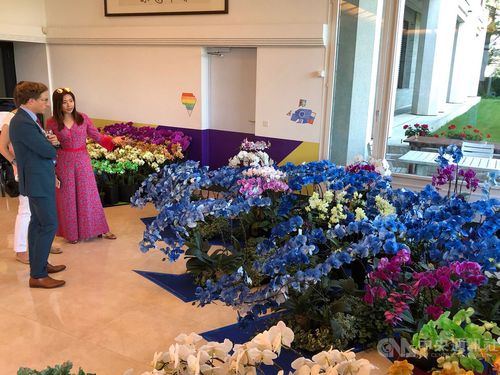 Geneva, June 17 (CNA) The Taiwan Orchids Exhibition, hosted by Taiwan's mission to the World Trade Organization (WTO), launched its third annual event in Geneva over the weekend.
This year, the show featured more than 1,000 flower stems from over 20 orchid species, Tseng Chun-pi (曾俊弼), secretary-general of the Taiwan Orchid Growers Association, which helped organize the event, said Sunday.
The seedlings for the orchids were provided by state-run Taiwan Sugar Corp. (Taisugar), and first shipped to its nursery near Paris to allow them to fully blossom over the past three months, before being transported to Geneva.
The event is another good way to help promote foreign diplomacy for Taiwan, as Geneva is home to many international organizations and foreign ambassadors to the WTO, Tseng said.
Phalaenopsis orchids were first discovered on Lanyu Island off the coast of eastern Taiwan in 1879. After years of cultivation, 90 percent of the world's species now come from Taiwan, Cyrus Chu (朱敬一), Taiwan's representative to the WTO, said in his opening speech.
Today, the flowers come in a variety of blooming colors, much like Taiwan's multicultural diversity and democracy, Chu said.
One of the main attractions this year is the show's "World Map" depicting five continents using different colored orchids.
As with previous events, the exhibition is being held at Taiwan's WTO office in Geneva, and will run until Wednesday.