Jupiter's great red spot to become brightest Monday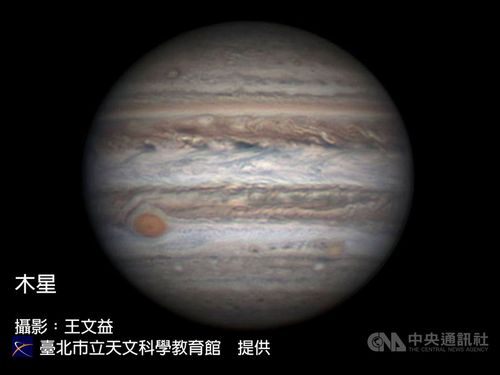 Taipei, June 9 (CNA) Astronomy buffs will have a chance to find out what is happening with the great red spot on Jupiter when the planet moves closest to Earth and reaches its brightest Monday, the Taipei Astronomical Museum said Sunday.
The opposition of Jupiter, which occurs when the Earth comes between the sun and the largest planet in the solar system, will offer the best view of Jupiter this year, according to the museum.
The great red spot is a persistent high-pressure region in the atmosphere of Jupiter, producing an anticyclonic storm, the largest in the Solar System, 22 degrees south of the planet's equator. It has been continuously observed since 1830.
The celestial event will take place at 11:28 p.m. Monday, although Jupiter will be visible throughout the night with the naked eye, weather permitting, the museum said.
The planet will remain relatively bright until mid- June, it added, suggesting those interested in the planet's great red spot visit the museum between 7 p.m. and 9 p.m. every Saturday in June to use its telescope for a detailed look.