Female baseball umpire shares experience in gender stereotype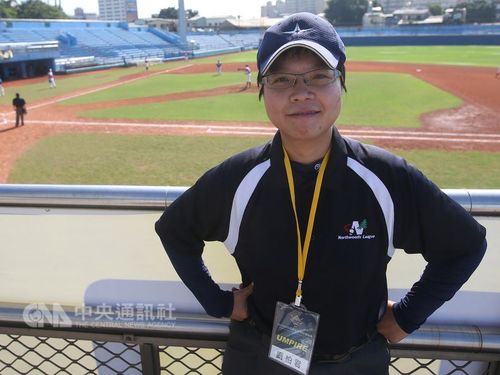 Taipei, May 19 (CNA) Taiwan's first female baseball umpire-in-chief on Sunday urged all women in the country to break gender stereotyping, saying that "you can be anyone you want to and being female won't stop you from doing so."
Speaking during a foreign ministry-organized event, Liu Po-chun (劉柏君), the first Taiwanese to receive the International Olympic Committee (IOC) Women and Sport World Award earlier this year, said that throughout her sports career, she has never been deterred by gender discrimination, which is common in baseball in Taiwan.
She said she has loved the sport for as long as she can remember.
But at the age of 13, she was told that there are no skirts allowed in baseball when she wanted to apply to join her high school baseball team.
Unable to play herself did not stop her from keeping close connection with the sport.
She devoted herself to coaching Little League baseball in remote mountainous and offshore areas of the country for years before deciding to become an umpire.
Training to become an umpire was challenging to say the least, she said.
Baseball, a male-dominated sport, is extremely discriminatory toward women. At first, she could not even touch the ball itself, as it had been a long-term practice in Taiwan that women were not allowed to touch baseballs or other equipment related to the sport, she noted.
After she completed umpire training, she was told there was no equipment for her, since female umpires in the baseball world were so few and far between.
In 2009 she interpreted for the New York Yankees at a pitching clinic held in Taiwan and it was the Yankees that donated the equipment she needed.
She now continues to work as a promoter of women's baseball in Taiwan and serves as a member of the Taiwan Women's Baseball Advocate Association (TWBAA) to encourage more females to engage with the sport she loves.
She is also a social worker for the Taipei-based Garden of Hope Foundation that helps disadvantaged girls and young women, especially girls caught in the sex industry, victims of sexual abuse and domestic violence, and victims of human trafficking.
"I want to make girls believe that they have the potential to take charge of their lives despite traditional stereotypes.
"Baseball has made me who I am now. I want girls to feel they can do anything, just like me on the baseball diamond," she said.
Liu, 39, was granted the award in March because of her staunch advocacy for female empowerment through sport.
While Liu received the award as a recipient from "Chinese Taipei," she was listed as being from a province of China by U.N. Women on Twitter.
"Meet Po Chun Liu, the 1st woman baseball umpire from Taiwan, Province of China, who won the 2019 IOC #WomenAndSportAwards for her work to empower women and girls through sport!" U.N. Women tweeted.
Liu later said on Facebook that she was honored to receive the award, but stressed that "I am Taiwanese."
She called on people to join her in telling the world that "Taiwan is not a province of China" and to paste the statement below the U.N. Women tweet .
In response, the U.N. later changed "Taiwan, Province of China," to Chinese Taipei, the name Taiwan uses in major international organizations.