GOLDEN HORSE: 'An Elephant Sitting Still' wins best picture award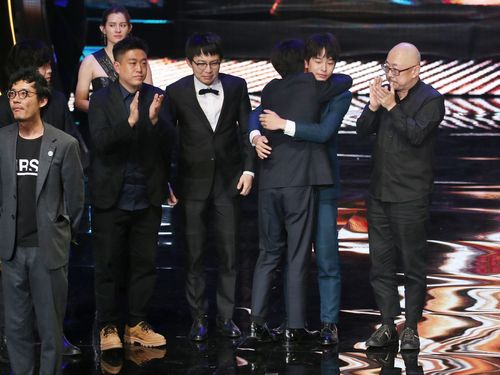 Taipei, Nov. 18 (CNA) The Best Feature Film of the 55th Golden Horse Awards went to "An Elephant Sitting Still" Saturday, representing an emotional win and a posthumous honor for late director Hu Bo (胡波), who committed suicide last year at age 29.
The film crew, along with Hu's mother, Chu Yanhua (楚延華), took the prize with mixed feelings from Ang Lee (李安), the chair of the Golden Horse executive committee, while many ceremony goers were also in tears.
"I am excited. I want to thank the judges and audience again," Chu made a brief remark as she accepted the award for her son.
The four-hour-long movie resolves around four nobodies who struggle through another day in their life--including a runaway teenager, a girl involved in a campus scandal, an old man troubled by family issues, and a bully who feels guilty about a friend's suicide.
There is much sorrow, anger and question of death throughout the movie, which also won the "Best Adapted Screenplay," based on Hu's own novel, and the "Audience Choice Award" which was granted on the eve of the awards ceremony.
Hu's work has also earned high recognition from world-renowned directors, including Cannes Festival winner Hou Hsiao-hsien (侯孝賢), who said he was deeply moved by the film.
"(I am) very surprised. (The film) is really amazing and better than the movies we made when we were young," Hou said.
Also competing for the category were films "Long Day's Journey Into Night," "Dying to Survive," "Shadow," and "Dear EX."
The Golden Horse Awards ceremony, Taiwan's equivalent of the Oscars, is one of the most prestigious film events in the Chinese-speaking world.