Taipei holds first LGBTQ art exhibition in a public museum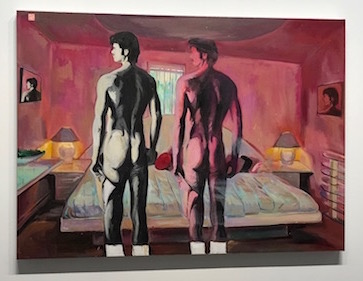 Taipei, Sept. 8 (CNA) After a landmark court ruling in May cleared the way for Taiwan to become the first Asian country to legalize same-sex marriages, a Taiwan museum is hosting what it considers to be the first ever LGBTQ art exhibition held at a public museum in Asia.
Jointly organized by Museum of Contemporary Art, Taipei, and Hong Kong's art promoter Sunpride Foundation, the "Spectrosynthesis─Asian LGBTQ Issues and Art Now" exhibit features 51 works by 22 artists from Taiwan, China, Hong Kong, Singapore, the United States and Canada.
"The artworks span 50 years and tell the history and life stories of the LGBTQ people in the greater Chinese community," Sean Hu (胡朝聖), curator of the exhibition, said Friday.
The works include paintings, videos, sound recordings, sculptures and photography, and address a wide range of topics, such as self-identity, social oppression, illness, life and death, and human desire and lust.
[Jimmy Ong's "Heart Daughters"]
"I hope the exhibition will provide an opportunity for the public to communicate their different viewpoints, and allow the visitors to listen to life stories that are different from their own," Hu said.
He added that he hopes the exhibit will help increase the public's understanding of LGBTQ rights and issues.
Among the works are two oil paintings titled "Young Girl" (1960) and "Male Youth in Yellow Shirt" (1967) by late Taiwanese artist Shiy De-jinn (席德進), who was known to be gay even though he never publicly came out of the closet.
The two iconic paintings are displayed side by side at the entrance of the exhibition, to make a statement that "we are all the same, whether we are a girl or a boy," Hu said.
["Male Youth in Yellow Shirt" (left) and "Young Girl" (right)]
Chinese artist Xiyadie (西亞蝶) is showcasing colorful paper cut works from his "Door," "Train," and "Pleasure" series at the exhibition, including the work "Sew Up," which shows a person trapped inside a house and sewing up his penis, with the large needle poking through the roof.
"I want to poke a needle through tradition," Xiyadie said, adding that he often felt trapped by tradition and the painful feeling made him want to end his life.
Another of his work features two men outside of a house having sex, while a woman with a baby were inside the house.
Xiyadie, who survived China's Cultural Revolution, a period when gay people were severely persecuted, said the autobiographical artwork mirrors how he feels. He is happy with his boyfriend, but he is constantly reminded of the pain he caused his wife, the artist said.
[Xiyadie and "Sew Up"]
Taiwanese artist Tzeng Yi-hsin (曾怡馨), is showcasing two photographs of people posing as figures in Manet's notable painting "Olympia" and the 1830 French painting "Liberty Leading the People."
"I want to subvert traditional art education that often promotes a single perspective. The art textbooks that we've read since childhood often feature the views of Western, white, heterosexual men," she told CNA.
In Tzeng's photographs, a man poses as the nude woman in "Olympia," while members of the Taiwan Alliance to Promote Civil Partnership pose as figures in "Liberty Leading the People."
"I want to re-visit mainstream artworks from a queer perspective," said Tzeng, who specializes in mixed media.
[Tzeng Yi-hsin and "Liberty Leading the People"]
Another Taiwanese artist Wen Hsin (溫馨), who is showcasing four large digital prints titled the "Half" series, said her photographs featuring topless people were meant to challenge gender stereotypes and people's perception of their bodies.
"One of my models was a man who adored his elder sister when he was little. After a certain age, however, he was not allowed to imitate his sister's gestures and voice and would be mocked by others if he did," Wen said.
"In the work, he tried to imagine what he would be like today if he was never wounded in that way and was allowed to be like his sister," she said.
[Wen Hsin and "Half-Hao"]
Hu, the curator, said he hopes the exhibition will be able to tour to other Asian countries "even though it is difficult." He said he is in talks with people in Hong Kong and Thailand about the possibility.
The exhibition will run from Saturday until Nov. 5 at the Museum of Contemporary Art, Taipei.
[Ku Fu-sheng's "The Room at the Top of the Stairs"]
[Chen Chien-pei's "Interface"]
[Wang Jun-jieh's "Passion"]
[Hsi Shih-pin's "Buck of Freedom"]
[Ku Fu-sheng's "Poppy Dream"]