Belizean book launched in Taiwan to promote cultural exchanges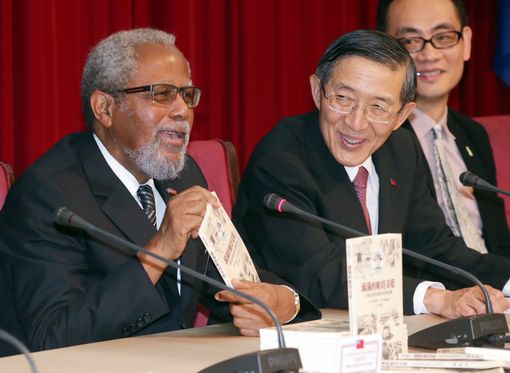 Taipei, May 14 (CNA) The Chinese-language edition of a book written by the governor-general of Belize was launched in Taiwan Thursday to help Taiwanese people learn more about the Central American country, one of Taiwan's diplomatic allies.
The launch of the book, titled "Pataki Full: Seven Belizean Short Stories," represents a historic moment, in that it is a book by a Central American writer published in Mandarin Chinese, said Governor-General Sir Colville Young at the book launch in Taipei, organized by the Ministry of Foreign Affairs.
"It's about the culture of Belize," he said.
The idea of a Chinese edition of the book was brought up last December.
When he visited Belize last December, Foreign Minister David Lin (林永樂) said, he received the English version of the book as a gift from Young.
At that time, Young also expressed his wish to share the book with the people of Taiwan and "suggested that it be translated into Chinese and published in Taiwan," Lin said.
The book comprises seven folk stories that portray the natural environment of Belize, the philosophy of the local people and the reality of society there.
Commenting on the book's title, Young said that the word "pataki" refers to a special kind of basket used in his country. By including it in the book's title, he said, he wanted to help preserve the traditional heritage of Belize.
"It is a good read, especially for teenagers and young adults," said the Taiwanese publisher of the Chinese edition of the book.
To help readers learn more about Belize, the book also includes a few pages on the country's demographic information, such as its population (about 400,000) and its six main ethnic groups.
Belize used to be a British colony but is now a member of the Commonwealth since gaining its independence in 1981.
In addition to being a government official, Young is a linguistics expert and a well-known educator in Belize, as well as a musician.
At Thursday's event, he also played a piano piece of his own composition.
(By Elaine Hou) ENDITEM/J