Poem about Tiananmen massacre displayed in Beijing subway train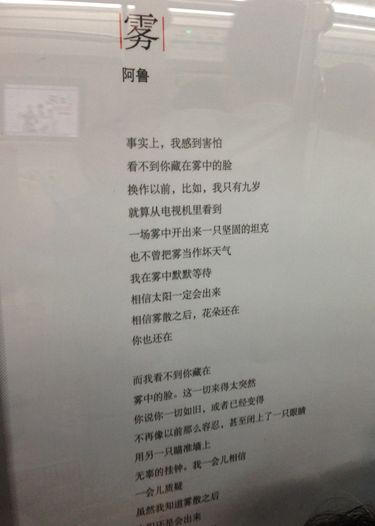 Beijing, June 2 (CNA) A poem inspired by the 1989 Tiananmen Square massacre was recently displayed on a Beijing subway train, surprising even the poet himself.
The Chinese poem, titled "Wu" (Fog), is seen framed in acrylic and exhibited on Line 4 of the Beijing Subway.
"In fact, I am scared. I cannot see your face hidden in the fog. Even in the past, for example, when I was nine, I never thought of fog as bad weather, even after seeing on TV a sturdy tank driving out from a veil of fog," the poem read.
"I wait silently in the fog, believing that the sun will come out, believing that the flowers will still be there, and you too will still be there, after the fog has dispersed."
The poet, who hails from Hunan Province and is identified by his pen name Arlu, told CNA his poem was inspired by the Tiananmen Square protests in 1989, and he was surprised that it was selected to be exhibited on the subway train.
Born in 1980, Arlu said the information he got from TV about the incident at the age of nine was "completely opposite" from the information he later picked up from the outside world after growing up.
The poet said he wrote the piece after realizing the "absurdity" of history and hoped his poem will get the Chinese public thinking.
The authorities have not given him a hard time to date.
"There is too much that they have to worry about," he said. "Even if there is a problem, so what? It's OK. Whatever responsibility I should bear I will bear. Fear is a disgrace, isn't it?" he said.
Poems are regularly selected to be exhibited on Line 4 of the Beijing Subway.
Arlu said he has submitted two poems to the organizer of the poetry event, but his other poem, about romantic love, was rejected.
A customer service assistant for Line 4 told CNA that all works on display have been selected by professional experts, and the campaign is aimed at creating a more cultural environment for subway users.
The Tiananmen Square massacre, commonly known as the June Fourth Incident in Chinese, remains a taboo subject in China.
After weeks of pro-democracy protests in 1989, Chinese troops and tanks fired on civilians at Tiananmen Square in Beijing on June 4. Estimates of the death toll range from several hundreds to thousands.
(By Rita Cheng and Christie Chen)ENDITEM/ls