Germany eager to expand relations with Taiwan: Senior diplomat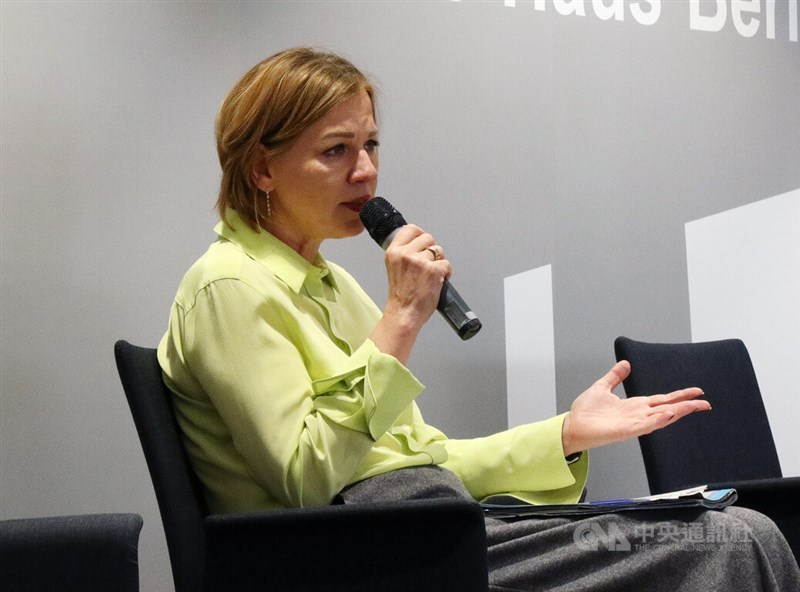 Taipei, Nov. 14 (CNA) Germany wants to continue expanding its relations with Taiwan and believes that barring agreement from Taipei and Beijing, there will be "no expiry date" to the status quo in the Taiwan Strait, a senior German diplomat said Monday.
Petra Sigmund, director general for Asia and the Pacific at the German Foreign Office, made the comments during a speech at the "Second Berlin Taiwan Conference" organized by German member of European Parliament Reinhard Bütikofer.
In her remarks, Sigmund said that while Germany does not have diplomatic ties with Taiwan, the two sides have good relations in a variety of fields, which Germany is eager to expand.
In terms of political engagement, Sigmund explained that although Germany adheres to a one-China policy, "that doesn't mean no contact" with Taiwan.
Rather, Berlin allows contact up to the ministerial level, with the only restrictions being on the so-called "big seven" functions -- including the chancellor, president and foreign minister -- because they represent German sovereignty, she said.
As an example, Sigmund noted that Germany's minister of justice and minister of education and research had both met with their Taiwanese counterparts this year, in addition to numerous parliamentary contacts.
Despite some "nervousness" from China, "we want to defend that space [and] the status quo that we have in our relationship with Taiwan, because it is so worthwhile, so important for us," Sigmund said.
Video source: Reinhard Bütikofer's YouTube channel
One-China Policy and Taiwan
Sigmund noted that all European Union member states have one-China policies that establish diplomatic ties with Beijing only, but said that within those policies, the countries take very different approaches.
Germany has defined its own one-China policy, which is different from the "one-China principle" promoted by Beijing, she said, referring to the latter's position that there is only one China, which includes Taiwan and is represented by the People's Republic of China government.
In terms of recent developments, Sigmund said the German government that was formed in 2021 mentioned Taiwan in its coalition agreement -- a first in German politics -- and had further elaborated its positions in its "Strategy on China" paper released in July.
Both documents state that any change to the Taiwan Strait status quo must be peaceful and mutually agreed upon, and also express support for Taiwan's international participation within the framework of the EU's one-China policy.
The Strategy on China adds that Germany "has close and good relations with Taiwan in many areas and wants to expand them."
During the event's question period, Sigmund argued that Beijing had introduced "unclarity" to the issue of the status quo, by suggesting that unification with Taiwan is a prerequisite for the "rejuvenation" of China by 2049.
In light of such statements, it is important for Germany to make clear that "the status quo has no expiry date, and it can only be changed by peaceful means and mutual consent," Sigmund said.