Different motives seen behind Beijing's poaching of Honduras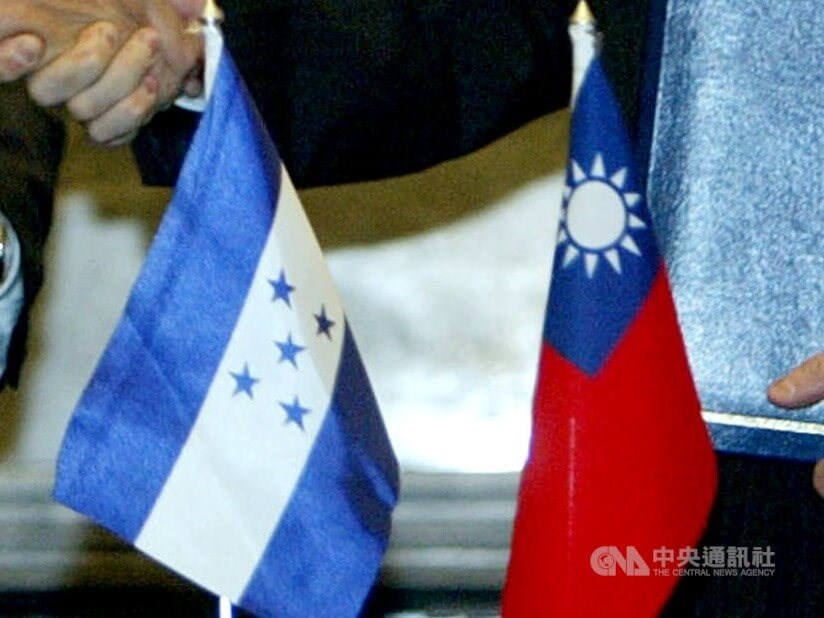 Taipei, March 26 (CNA) Following the diplomatic split between Honduras and Taiwan on Sunday, several Taiwanese academics weighed in on the timing of the act, the reasons why Taiwan continues to lose allies to Beijing, and possible responses from the United States.
The Republic of China (ROC, Taiwan's formal name) announced Sunday morning it was cutting diplomatic ties with Honduras shortly after Honduras said it was severing diplomatic relations with the ROC to formally recognize the People's Republic of China (PRC).
Honduras was the ninth diplomatic ally and fifth in Latin America Taipei has lost to Beijing since President Tsai Ing-wen (蔡英文) took office in May 2016, and the split left Taiwan with only 13 formal diplomatic allies.
Professor Charles Wu (吳崇涵) of National Chengchi University's Department of Diplomacy believed that Latin American countries such as former allies Nicaragua and Honduras may be defecting to the PRC in part because Beijing is exploiting their need for infrastructure.
China's infrastructure assistance programs have always been alluring to nations that need support but cannot pay back their debts in the short run, enabling Beijing to steal diplomatic allies away from Taiwan.
Yet while China's aide may seem more attractive on the surface than that offered by other partners, China's strategic considerations may actually harm the country in the long run, Wu said.
"Once the debt no longer benefits China, the infrastructure being handled by Beijing in nations it is assisting may come to a stop, leaving them to shoulder the burden on their own."
Su Tzu-yun (蘇紫雲), a research fellow at the Taiwan government-funded Institute for National Defense and Security Research, saw the break in ties as a key issue for the United States.
He told CNA that newly established relations between Honduras and China will affect the plans of the U.S. in Latin America because it could further the trend of the U.S. slowly losing its influence in its own "backyard."
With Tegucigalpa's move toward China, Su expected the U.S. to speed up its plans to invest in the region so that it can retain its influence in Latin America.
Another Taiwanese academic, who wished to remain anonymous, said the shift of Latin American countries like Nicaragua and Honduras to China indicated that the Taiwan Allies International Protection and Enhancement Initiative (TAIPEI) Act of 2019 was not working.
The TAIPEI Act was enacted on March 26, 2020 by the U.S. to boost ties with Taiwan while encouraging other allies and international bodies to stabilize both official and unofficial relationships with Taiwan.
Chen Shih-min (陳世民), an associate professor of political science at National Taiwan University, said he found the timing of the move too coincidental, coming just before Tsai sets off on a trip to the U.S., Guatemala and Belize on March 29 and former President Ma Ying-jeou (馬英九) goes to China on March 27.
Chen said the timing of Beijing's move was an act of intimidation aimed at hurting Taiwan's morale.
Chen's observation was echoed by Chang Kuo-cheng (張國城), a professor at Taipei Medical University's Center for General Education, who said it was a staple policy of China to continually erode the number of countries that formally recognize the ROC.
Related News
March 26: 'No more dollar diplomacy,' says Tsai as Honduras cuts ties
March 26: Taiwan FM suspects timing of Honduran ties cut linked to president's US trip
March 26: Taiwan's FM describes Honduran financial demands as akin to bribery
March 26: U.S. backs engagement with Taiwan, warns of China's empty promises
March 25: Hondurans gather in Taipei to highlight long 'friendship' with Taiwan
March 25: Taiwan has tried its best to aid Honduras: MOFA
March 21: Tsai to depart for tour of Guatemala, Belize on March 29
March 20: Ex-President Ma Ying-jeou to make landmark visit to China