'First strike' includes intruding in Taiwan's airspace: Defense minister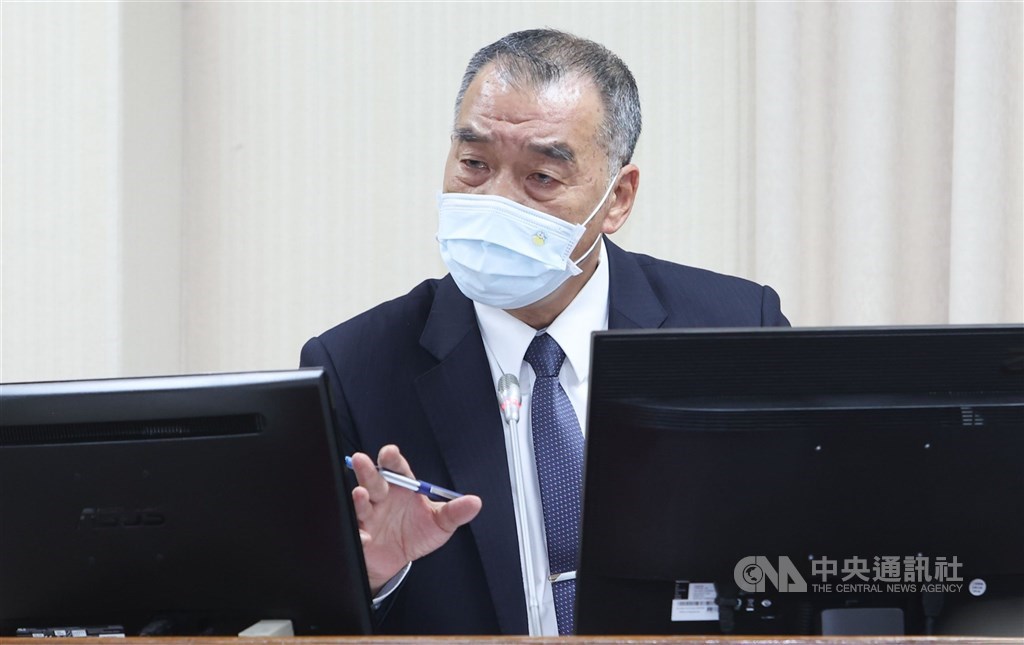 Taipei, Oct. 5 (CNA) The flying of Chinese PLA fighter jets into Taiwan's territorial airspace will be regarded as a "first strike" against the nation, Minister of National Defense Chiu Kuo-cheng (邱國正) said Wednesday, noting that the definition of invasion is not just limited to artillery attacks.
"Taiwan's military has its red line when it comes to national defense," Chiu said at a hearing of the Legislature's Foreign and National Defense Committee, stressing the military will definitely launch "countermeasures" once the red line is crossed.
The minister, however, did not elaborate on what the countermeasures would be.
A nation's territorial airspace means all airspace over its territory, extending 12 nautical miles from its coastline.
Chiu was answering questions from Democratic Progressive Party lawmaker Lo Chih-cheng (羅致政) about the existence of the so-called "median line" of the Taiwan Strait.
In response to U.S. House of Representatives Speaker Nancy Pelosi's visit to Taiwan on Aug. 2-3, China held a series of military exercises in waters around the island in the following week, during which it fired 11 Dongfeng ballistic missiles, several of which were later revealed to have flown over Taiwan.
In the wake of those live-fire drills, there have been frequent incursions by Chinese warplanes into the southwestern part of Taiwan's air defense identification zone (ADIZ) and across the median line of the strait between Taiwan and China.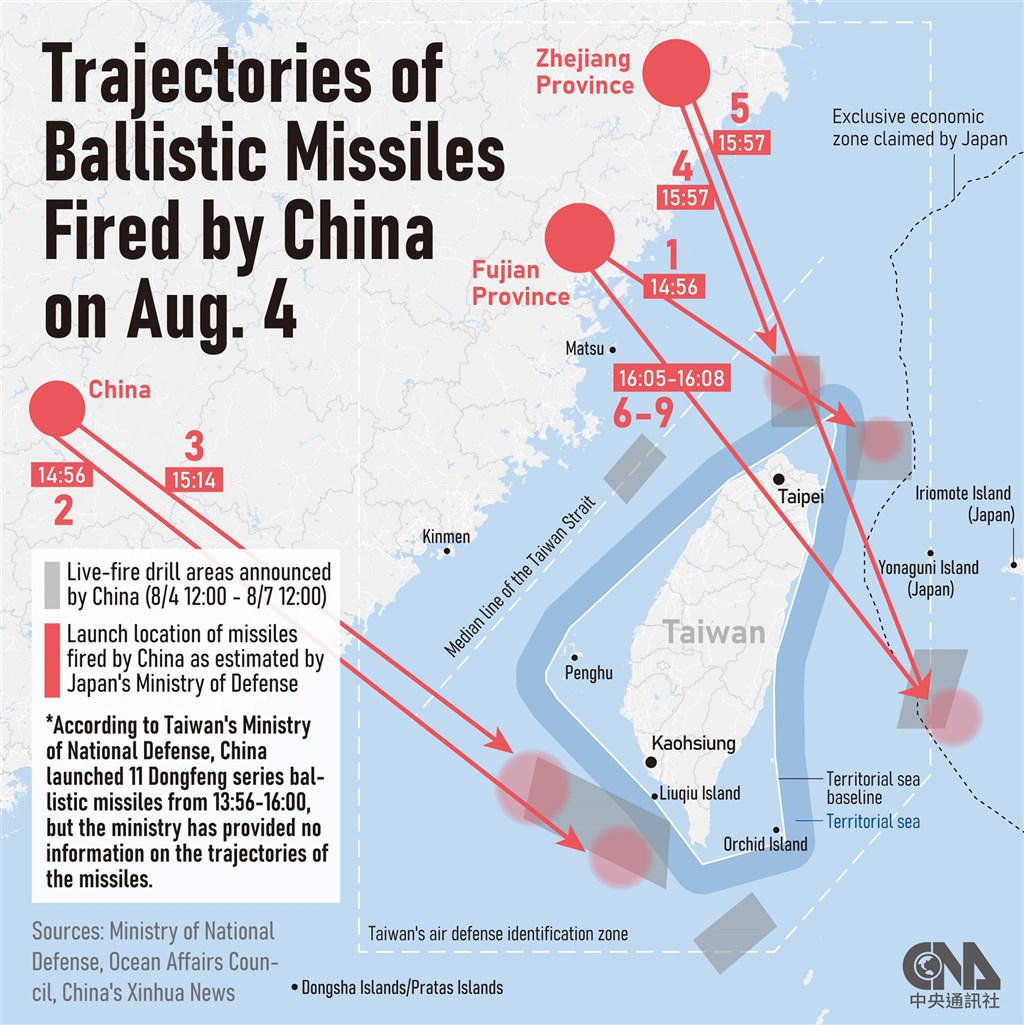 Chiu said the median line had been an invisible border line as part of a tacit understanding between Taiwan and China that is not bound to any legal pact, until it was "broken" by Beijing, and it would be difficult to return to the previous situation.
"What has not changed are the 'patrol zones' and 'training zones' which (Taiwan's) military has demarcated on the eastern side of the median line," which the military will never retreat from, Chiu stressed.
Before attending the legislative hearing, the defense minister was asked by reporters about remarks by the United States' Central Intelligence Agency (CIA) head that Chinese President Xi Jinping (習近平) has set a deadline for the People's Liberation Army (PLA) to have the capability to annex Taiwan by 2027.
In an interview with the American news program 60 Minutes which aired on Monday, CIA Director William Burns said Xi "has instructed his military to be prepared by no later than 2027 to conduct a successful invasion of Taiwan."
He added that "the further you get into this decade, the greater the risks rise of a potential conflict."
In response, Chiu said there were "no timelines" for Taiwan's military when it comes to defending the nation.
Chiu said he respected and would take note of Burns' claim, but the military did not adhere to timelines such as 2027 or twenty-something years from now, as it was always standing by for a potential conflict.
When asked to comment on whether Taiwan had a say in what weapons it wants to purchase from the U.S., Chiu said that whether an arms procurement package would go ahead depended on whether it met the nation's defense needs.
It was his responsibility to assert Taiwan's position that it "will not accept a hard sell," he said, assuring the public that the defense ministry would stand its ground when purchasing weapons from the U.S.
Meanwhile, Chiu said it would depend on the situation when it comes to whether cell phone text alerts would be sent to the Taiwanese public if China were to again fire missiles over Taiwan.
He was answering reporters' questions about whether the Ministry of National Defense would send notifications like Japan did through its J-Alert national early warning system on Tuesday when North Korea fired an intermediate-range ballistic missile that flew over northern Japan's Aomori Prefecture before landing in the Pacific Ocean.
The ministry did not do so when Chinese missiles flew over Taiwan in August, later explaining that the missiles had flown into the atmosphere, and thus not Taiwanese airspace, when they went over the island.
Every country has different standards for issuing missile alerts, and the defense ministry would make such decisions on a case-by-case basis, Chiu said.
Regarding whether Taiwan's compulsory four months of "military training" for men born after Dec. 31, 1993 would be extended to 12 months, Chiu said the proposal was being reviewed and work was underway to assess differing opinions from relevant agencies before a final plan could be put forward.