TSMC 'non-operable' if China invades Taiwan: Chairman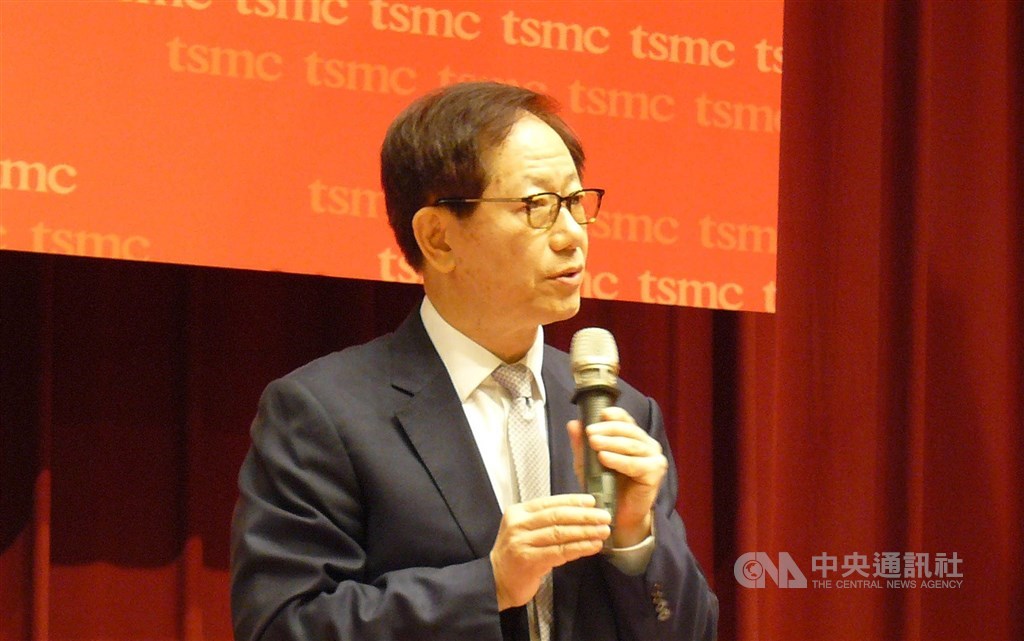 Taipei, Aug. 1 (CNA) Taiwan Semiconductor Manufacturing Co. (TSMC) Chairman Mark Liu (劉德音) said that a Chinese invasion of Taiwan would render TSMC's factories "non-operable" and create "great economic turmoil" on both sides of the Taiwan Strait.
The comments, made during an interview with CNN's Fareed Zakaria that aired on Sunday, took place as U.S. House Speaker Nancy Pelosi began a trip to Asia that may include a visit to Taiwan, prompting China to warn of "forceful measures" in response.
When asked by Zakaria what would happen to Taiwan and its economy if China were to invade, Liu replied that a war would have "no winners."
The impact of such a conflict would go well beyond semiconductors, and would bring about the "destruction of the world's rules-based order" and "totally change" the geopolitical landscape, he said.
On the question of TSMC's integral role in the Chinese economy, Liu suggested that he viewed it as more of a deterrent to war than a risk.
Because an invasion or military attack would render the company's factories "non-operable," Liu said that this meant "nobody can control TSMC by force."
The reason, he explained, is because of the extreme sophistication of TSMC's plants, which require a real-time connection with partners across the world on matters ranging from raw materials and chemicals to spare parts and software.
In terms of China, Liu said that the country currently accounted for about 10 percent of TSMC's revenue, adding that "if they need us, it's not a bad thing."
Asked to expand on the statement, Liu said that an interruption to TSMC's operations would "create great economic turmoil on [both] sides," including China, where "suddenly their most advanced components" would disappear.
Liu said he believed that lessons can be taken from the war in Ukraine, where all participants -- Russia, Ukraine, and the West -- are coming out as losers.
"We should use those lessons ... to look at Taiwan," and think about things such as how to avoid war, how to keep the economy moving, and preserve fair competition, Liu said.
During the interview, Zakaria asked Liu if he was telling the world not to be scared by what China is saying, because "the Chinese will never be able to take over the Taiwanese economy."
Specifically, Zakaria went on, it would fail to do so because of the Taiwanese economy's emphasis on global collaboration, trust, and openness, meaning that if China invades, "they'll find they've taken over nothing."
"Correct," Liu replied. "War can only create problems on all three sides. We need to prepare for the worst, but we should hope for the best."
Referencing the war in Ukraine, he added, "why would we jump again into another trap?"
Update
Aug. 10: TSMC July sales hit new high, up over 6% from June
Related News
Sept. 26: Attack on Taiwan could devastate global economy: Blinken
Aug. 6: 20 Chinese warplanes, 14 warships deployed around Taiwan: MND
Aug. 6: U.S., Japan, Australia urge China to stop military drills
Aug. 6: Taiwan companies told to abide by China's labeling rule: MOEA
Aug. 5: Taiwan shares soar to end above 15,000 points
Aug. 5: Controversial IC tycoon to donate NT$3 billion for Taiwan's security
Aug. 4: President Tsai calls China's live-fire drills 'irresponsible act'
Aug. 4: China fires 11 Dongfeng ballistic missiles into waters off Taiwan: MND
Aug. 4: China cannot stop world leaders from visiting Taiwan: Pelosi
Aug. 4: G7, EU urge China to refrain from 'aggressive military activity'
Aug. 3: China's military exercises aimed at blockading Taiwan: defense ministry
Aug. 3: Pelosi departs Taiwan after whirlwind visit
Aug. 3: Pelosi, TSMC Chair Liu discuss semiconductor chips: Legislator
Aug. 3: Taiwan shares end up in mild rebound amid China tensions
Aug. 2: Visit to honor 'unwavering' U.S. commitment to Taiwan: Pelosi
Aug. 2: Taiwan shares plunge amid worries ahead of Pelosi's expected visit