Biden reiterates U.S. will defend Taiwan if attacked by China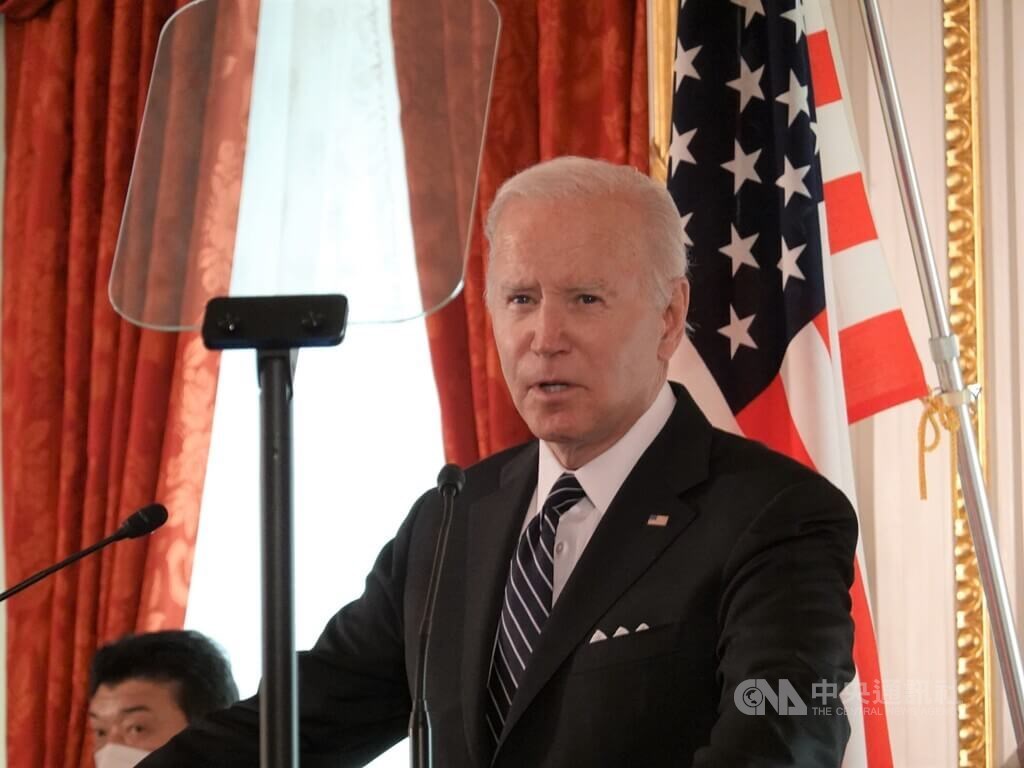 Taipei, May 23 (CNA) The United States President Joe Biden on Monday said the U.S. would defend Taiwan if the latter was attacked by China, marking his latest remarks on Taiwan's defense that appear to deviate from Washington's longstanding policy of "strategic ambiguity" on the issue.
Biden, speaking in Tokyo on the second day of his visit to Japan, said "yes" when asked if he was willing to get involved militarily to defend Taiwan if China invaded. "That's the commitment we made," he added.
"We agree with the One-China policy, we signed onto it and all the attendant agreements made from there," Biden added.
"But the idea that it could be taken by force, just taken by force, is just not -- it's just not appropriate. It will dislocate the entire region and be another action similar to what happened in Ukraine."
At the same time, Biden said that U.S. policy toward Taiwan "has not changed at all."
A White House spokeswoman later repeated that comment after Biden's remarks, saying the president reiterated "our One China Policy" and "our commitment under the Taiwan Relations Act to provide Taiwan with the military means to defend itself."
Biden made the remarks during a post-summit press briefing with Prime Minister Kishida Fumio in Tokyo.
Over the past few decades, the U.S. has intentionally maintained a stance characterized as "strategic ambiguity" when asked whether it would come to Taiwan's defense in the event of an attack by China. This is intended to deter Beijing from attempting an invasion, without the U.S. committing itself to war.
Since taking office in January 2021, however, Biden has repeatedly used language that appears to diverge from this longstanding policy.
In August 2021, Biden told ABC News that the U.S. had "made a sacred commitment" to defend its NATO allies, and the same held for Taiwan.
At a CNN town hall event in October, 2021, a participant referred to recent reports that China had tested a hypersonic missile. He asked Biden if he could "vow to protect Taiwan," and what he would do to keep up with China's military development.
President Biden replied "Yes and yes."
He was then asked a second time by CNN anchor Anderson Cooper if the U.S. would come to Taiwan's defense in the event of an attack by China. Biden replied: "Yes, we have a commitment to do that."
On both occasions, administration officials later walked back the comments and signaled that America's Taiwan policy had not changed.
Meanwhile, Biden and Kishida on Monday also reiterated Washington and Tokyo's stance on ensuring peace and stability in the Taiwan Strait.
"We stressed the importance of ensuring peace and stability in the Taiwan Strait, which is an essential element for the peace and prosperity of the international community. We also urged for a peaceful solution to the cross-strait issue," Kishida said at the same press briefing.
A post summit joint statement also noted the importance of peace and stability across the Taiwan Strait "as an indispensable element in security and prosperity in the international community."
Asked to comment on Biden's latest comments and the joint statement, Taiwan's Ministry of Foreign Affairs (MOFA) spokeswoman Joanne Ou (歐江安) expressed the government's gratitude toward Biden and his administration for reaffirming its rock-solid support for the country.
The latest comments once again highlight the fact that China's increasing threat across the Taiwan Strait has raised widespread concern in countries around the world, Ou said.
She added that Taiwan will continue to work with the U.S., Japan and other like-minded countries, while beefing up its self-defense capabilities to jointly safeguard the rules-based international order in the Indo-Pacific region.