Taiwan condemns China as another alleged Taiwanese spy 'confesses'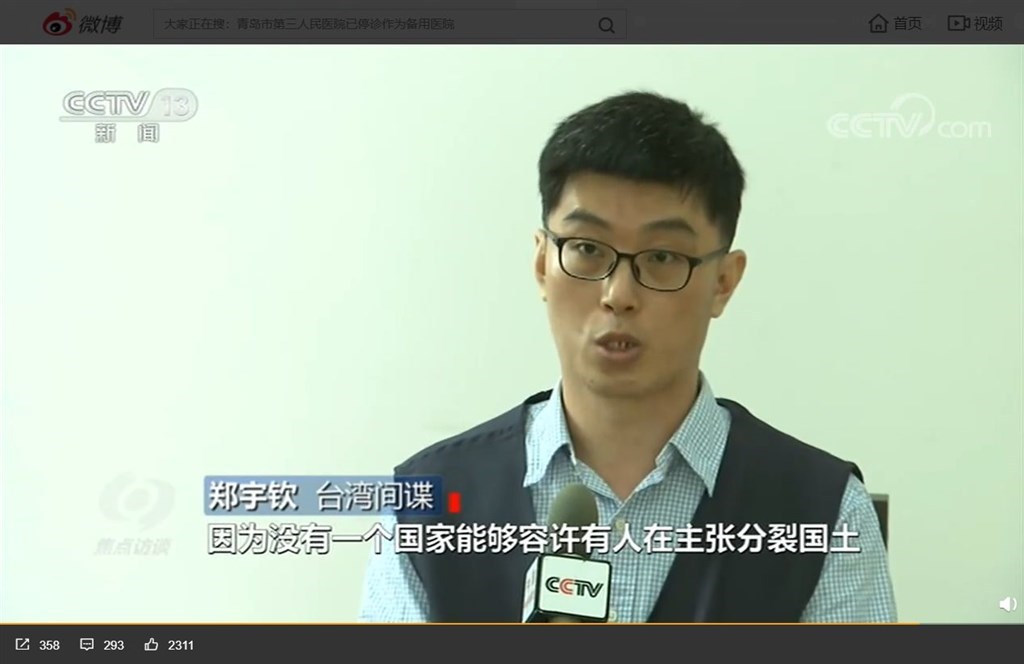 Taipei, Oct. 13 (CNA) Taiwan on Tuesday condemned China for forcing another Taiwanese national accused by Beijing of spying for Taiwan's government to publicly "confess" on Chinese state television the previous day.
CCTV aired a segment Monday night in which Cheng Yu-chin (鄭宇欽), whom the program claimed to be a former aide to ex-ruling Democratic Progressive Party Chairman Cho Jung-tai (卓榮泰) and a Taiwanese scholar in the Czech Republic, confessed to spying.
"I know what I did was harmful to China, as no country would allow its people to divide the country's territory," Cheng, who was arrested when he visited China in April 2019, told the program.
Monday's CCTV segment was the second in two days to air the supposed confession of a self-claimed Taiwanese spy.
A Taiwanese citizen named Lee Meng-chu (李孟居) made a similar confession on CCTV's Sunday program. Lee was arrested in October 2019 after entering Shenzhen from Hong Kong, where he allegedly supported and took part in the massive protests there.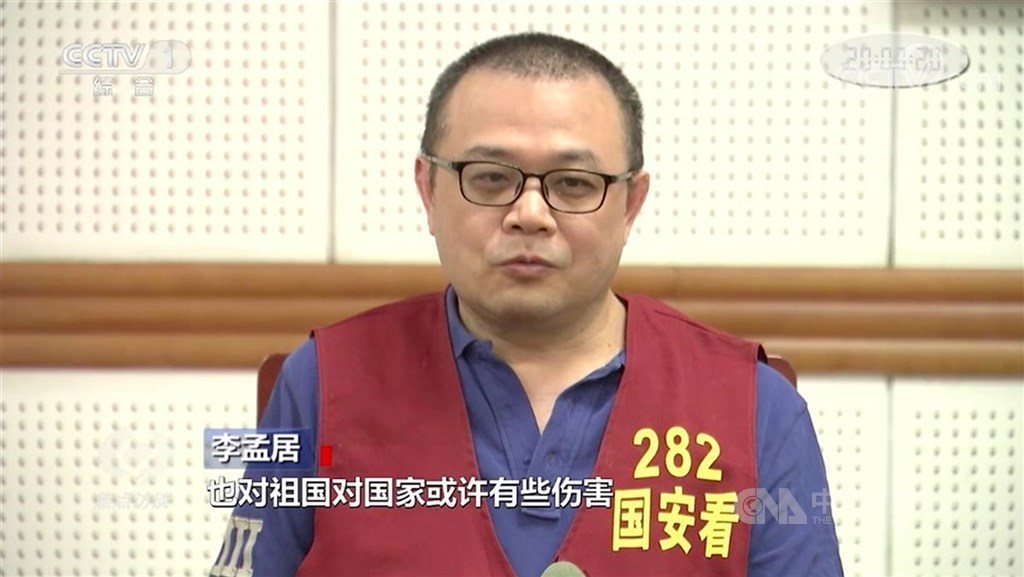 Both Lee and Cheng were accused of engaging in espionage activities against China on behalf of Taiwan's government.
According to CCTV, their arrests were part of Beijing's crackdown on Taipei's intelligence efforts.
Premier Su Tseng-chang (蘇貞昌) said Tuesday that China's repeated arrests of Taiwanese nationals and groundless accusations against them were "unbecoming of a world power."
He said Taiwan is not engaged in subversive or infiltration activities against China, but it is common for authoritarian China to engage in such behavior against other countries, which, the premier argued, is why Beijing has made these accusations against Taiwan.
The Mainland Affairs Council (MAC), the government agency in charge of relations with China, condemned Beijing on Monday for using illegal methods to force a Taiwanese citizen to openly and publicly "repent" on television.
"It is a malignant political manipulation to falsely incriminate a Taiwanese national for conducting espionage activities for Taiwan on a Chinese media outlet," the MAC said in a statement.
While Lee's identity was clearly established, Cheng's is somewhat murky.
Cho denied the allegation that Cheng was once his aide or that he even knew Cheng.
The Ministry of Foreign Affairs (MOFA) said Tuesday there were a number of factual mistakes in the CCTV program on Cheng.
Cheng was not a professor at Charles University in the Czech Republic as was reported in the program.
The CCTV show said Cheng met Taiwan's former representative to the Czech Republic Lee Yun-peng (李雲鵬) in 2004 before he was recruited by Taiwanese intelligence authorities to collect information on China.
But Johnson Chiang (姜森), MOFA's director-general of European affairs, said the ministry has never had a top envoy to the Czech Republic named Lee Yun-peng nor had it ever employed anybody by that name.
He described Cheng's case as another example of China attempting to launch smear campaigns against Taiwan.
Based on the ministry's understanding, Cheng lived in the Czech Republic from 2005 to 2018 and was considered China-friendly, engaging in activities to promote China-Czech relations and writing articles backing China's "One-Belt One-Road" initiative during his time there.
Local media reported Cheng as having been seen at the Legislative Yuan prior to 2005 but that he was not a legislative aide or staffer.