Taiwan will never yield to Chinese provocation: MAC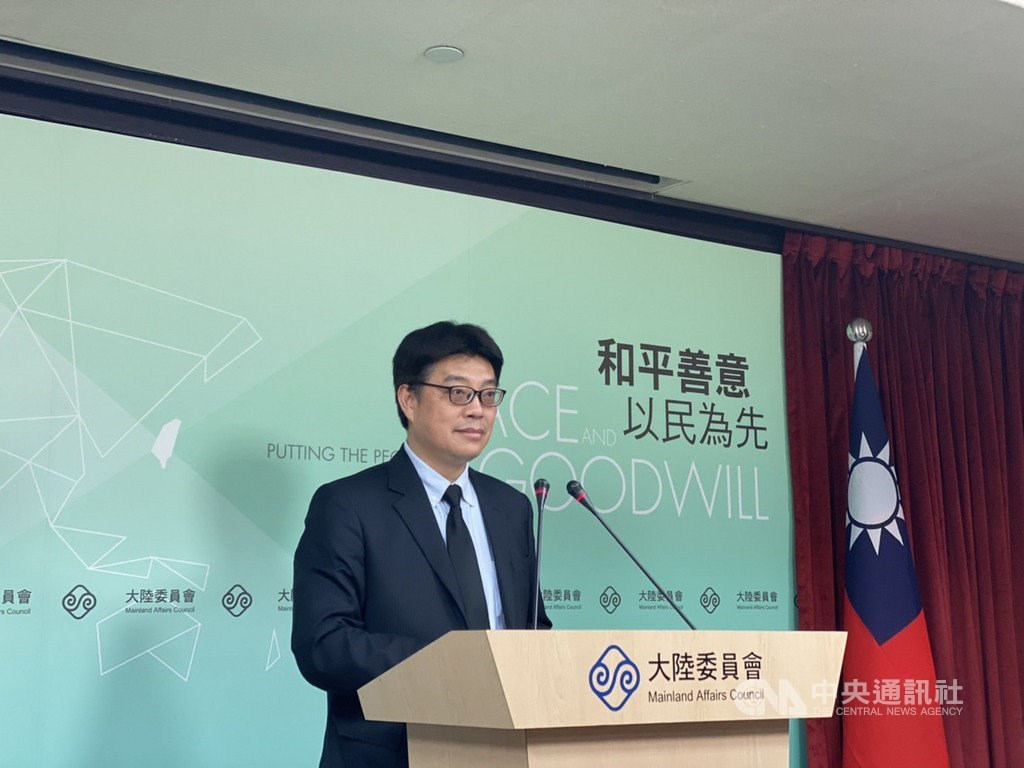 Taipei, Aug. 14 (CNA) Following a statement by China's People's Liberation Army on military exercises in the Taiwan Strait, Taiwan's government said Thursday it will never yield to provocations by Beijing.
At a press briefing that day, Chiu Chui-cheng (邱垂正), deputy head and spokesman of Taiwan's Mainland Affairs Council (MAC), the agency in charge of China affairs, called on Beijing to not act rashly as any intimidation will be strongly opposed.
Chinese military exercises in the area undermine peace and stability in the Taiwan Strait, and endanger the lives and property of Taiwanese people, Chiu said.
Chiu made the statement in response to Chinese military reports Thursday that the People's Liberation Army's (PLA) Eastern Theater Command recently carried out military exercises in the strait and surrounding waters.
Chinese media reported that command spokesman, Senior Colonel Zhang Chunhui, said the exercises, which involved "multiple units," were to boost joint operations capability and in response to the "current security situation" in the Taiwan Strait.
China views Taiwan as part of its territory, to be brought under its control by force if necessary.
Chinese media also noted "negative acts concerning Taiwan by some foreign nations recently sent seriously misleading signals to separatist forces and posed a severe threat to regional peace and stability in the Taiwan Strait."
Zhang was likely referring to a three-day trip to Taiwan by United States Secretary of Health and Human Services Alex Azar, the highest ranking U.S. cabinet official to visit the country since 1979. In that year, the two countries severed diplomatic ties, after the U.S. recognized the People's Republic of China.
However, Zhang did not elaborate or give further details on the military exercises, according to Chinese media.
Meanwhile, Taiwan's Ministry Of National Defense (MND) said joint intelligence, surveillance, and reconnaissance is used to monitor the waters and airspace in the Taiwan Strait.
The current situation is normal, the MND said, adding that cross-strait stability is the cornerstone of regional peace.
Taiwan's military will continue to build a solid national defense force, capable and determined, to defend the country's freedom, democracy and sovereignty, and to contribute to regional security and stability, the MND said.
However, when asked by CNA to verify if the reported drills took place, the MND replied that it does not comment on military exercises taken upon by other countries.
Meanwhile, the increased frequency of Chinese military action around Taiwan has alarmed some observers, fearing the PLA could take more aggressive action against the nation.
Su Tzu-yun (蘇紫雲), a research fellow at the government-funded Institute for National Defense and Security Research, observed that in the past, the PLA announced its war games through non-military agencies, such as China's Taiwan Affairs Office.
However, the recent drills were announced through a regional military spokesman, he said, speculating that by doing so, the PLA may be trying to project strength as well as downgrade Taiwan's status.
Since February, PLA jets have repeatedly crossed the median line of the Taiwan Strait, with the latest incursion occurring Aug. 10, just one day after Azar and his delegation arrived in the country to highlight Taiwan's success in combating the COVID-19 pandemic.