French MP denounces China's threat of force against Taiwan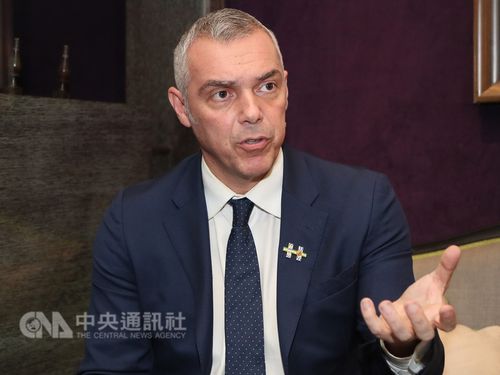 Paris, Jan. 2 (CNA) French parliamentarian Jean-François Cesarini said Wednesday that China's desire to go to war with Taiwan is unacceptable, referring to Chinese President Xi Jinping's (習近平) warning the previous day that China reserves the right to use force against Taiwan.
"France is a friend of China and also of Taiwan," Cesarini said in a tweet. "Yet China's call for a war is not acceptable. There is nothing to be gained by war, either on the international or economic front. The dialogue proposed by President Tsai Ing-wen (蔡英文) shows true wisdom."
Cesarini, a member of the French National Assembly and chairman of a parliamentary Taiwan-France Friendship Group, also tweeted part of Tsai's New Year's Day address, in which she laid out "four musts" as a framework for moving relations between Taiwan and China in a positive direction.
Tsai said China must face the reality of the existence of the Republic of China (Taiwan); must respect the commitment of the 23 million people of Taiwan to freedom and democracy; and must handle cross-strait differences peacefully, on a basis of equality; and that it must be governments or government-authorized agencies that engage in cross-strait negotiations.
In Cesarini's tweet, he said that with respect to the people's identity and will, his parliamentary group supports President Tsai's proposal for dialogue.
"We cannot accept that China wants to launch war against Taiwan," he tweeted.
Eric Bothorel, vice president of the parliamentary group, also tweeted that war cannot be a solution to the cross-Taiwan Strait issue.
"The current balance, stability and peaceful development of Taiwan must be maintained," he tweeted. On Wednesday, Xi said in a speech commemorating the 40th anniversary of the "Message to Compatriots in Taiwan" that Taiwan "must and will be" united with China based on the "1992 consensus" and under the "one China principle."
The "1992 consensus" refers to a tacit understanding between the then KMT government of Taiwan and Chinese communist officials that there is "one China," with each side having its own interpretation of what "China" means.
Xi said China is willing to talk with any party in Taiwan to push forward the political process as long as the party accepts the "one China principle."
However, "we will not renounce the use of force or give up the option to use all necessary measures" to serve that end and crack down on Taiwan independence, he said.
In response, President Tsai said at a news conference later in day that she has never accepted the so-called "1992 consensus" and will never do so because it is tantamount to the "one China, two systems" formula devised by China to bring Taiwan under its control.
She said Xi's statement proved that "Taiwan's misgivings are correct."