Wife of Taiwanese activist defiant after Beijing blocks her plans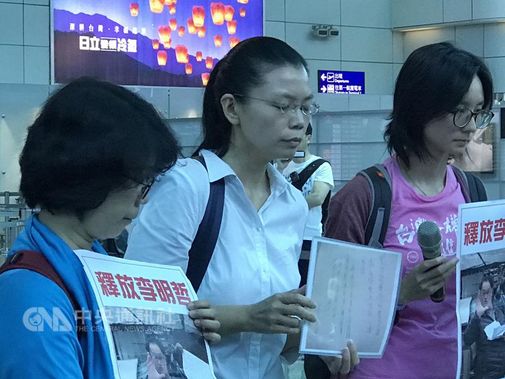 Taipei, April 10 (CNA) The wife of a detained Taiwanese human rights and democracy advocate was defiant Monday after her plan to travel to Beijing fell through earlier in the day.
Lee Ching-yu (李凈瑜) was turned back at Taiwan Taoyuan International Airport when she was told by check-in staff that her travel permit to China had been revoked and that she could not board the plane.
In an open letter to people in Taiwan later in the day, she said that no matter how powerful is China, "it can only take away our lives and freedom, but it will never break our dignity."
Her husband Lee Ming-che (李明哲) was detained on March 19, and China has yet to clarify why he was detained and where he is being held. Lee Ching-yu had hoped to travel to Beijing to get answers and see her husband to make sure he was all right.
"Even though I was prepared for the worst given China's poor record on the rule by law and was prepared for the possibility of not being allowed to board the plane or enter Beijing, when I ran into the petty tactics, I really broke down," she said.
Her reaction was in part because the Chinese government is a kidnapping ring, as a go-between trying to broker a deal called it, she said.
But it also was because Taiwan's official body in charge of China policy -- the Mainland Affairs Council -- and a semi-official body that handles contacts with China -- the Straits Exchange Foundation -- as well as national security authorities are not even worthy of a go-between in China's eyes, she said.
"If I went around the government to accept the conditions of a broker, I would betray Taiwan's dignity," she said.
China's Taiwan Affairs Office said Sunday that an unnamed organization had been authorized to send private messages and personal letters from her husband to her and to his parents in Taiwan.
Lee Ching-yu responded by calling that organization's representative a "broker," whom she said brought a copy of Lee Ming-che's "handwritten" statement on April 7.
The "broker" told her to "keep a low profile and cooperate" if she wanted her husband to be released soon, but if she insisted on taking a scheduled fight to Beijing to make her appeal, then a "TV station in Guangdong Province will immediately broadcast a video of Lee Ming-che confessing to his crime."
Lee said she was exhausted after her experience at the airport, and intended to rest for a day or two before rising again, but she said she would not "beg" the big power.
"I must fight on. I will not let my husband lose dignity for the sake of gaining freedom and live like a dog for the rest of his life," she said.
Lee Ming-che, a former Democratic Progressive Party worker who is now a staff member at Wenshan Community College in Taipei and a volunteer at local NGO Covenants Watch, was detained by China after entering the city of Zhuhai via Macau on March 19.
China confirmed 10 days later that Lee was being detained on suspicion of endangering national security. But it has yet to disclose where he is being held or any details about his alleged violations.