Ex-VP calls on China 'not to widen distance' with Taiwanese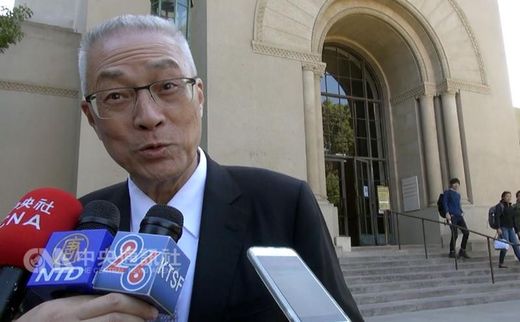 Los Angeles, Oct. 2 (CNA) Former Vice President Wu Den-yih (吳敦義) called on China to engage in a "peaceful competition" with Taiwan, instead of doing things that would widen the psychological distance between the people on both sides of the Taiwan Strait.
Addressing a gathering of overseas Chinese and Taiwanese expatriates in southwestern United States on a visit, Wu recited a classical Chinese essay advocating global harmony to express his hopes for cross-strait peace and development.
Wu said the two sides of the strait should compete with each other to see which side loves its people better, builds its society better and contributes more to making the Chinese nation strong and prosperous.
He cited for example one thing that he said would lengthen the distance between the people of Taiwan and China: China's habit of preventing Taiwan from flying the Republic of China's national flag at international arenas.
He changed a poem of Mao Zedong to express his vision of how the two sides of Taiwan Strait should be.
"Both sides are so lovely and so many of their people are behaving like heroes and heroins, and yet Taiwan's former ambition to 'recover the mainland' has become a thing of the past," Wu said.
If China still insisted on "liberating Taiwan," it would be deemed as too hegemonic; and even its plan on taking back Taiwan on a formula of "one country, two systems" would destabilize the strait, as would Taiwan's call for independence or unification, he said.
"Let's put all this aside. The best choice for both sides at this moment is peace," he said.
He further moderated an IMD World Competitiveness Report, which in 2011 ranked Taiwan as the world's 6th most competitive country, to show Taiwan's strength in the world.
"If only countries with a population of over 20 million are counted, Taiwan would be the second most competitive country in the world, next only to the U.S.," Wu said.
He then turned to the much discussed "1992 consensus" between Taiwan and China, saying agreeing to have different interpretations of "one China" is a very important foundation for cross-strait exchanges.
Under that consensus, Taiwan and China agreed there is only one China, but each side can interpret its meaning in its own way. For Taiwan, "one China" means "the Republic of China."
Wu elaborated that on the main contribution of "1992 consensus," saying that during President Ma Ying-jeou's (馬英九) eight years as president from 2008-2016, peaceful development in relations between Taiwan and China had been achieved based on the principle of "no unification, no independence and no use of arms."
And that had been made possible while Taiwan insisted on maintaining the ROC constitutional framework -- something President Tsai Ing-wen (蔡英文)also claimed she would do.
Therefore, Wu said, what is known as "status quo" should in fact be the status quo of the eight years when Ma was president.
Wu later cut a National Flag-shaped cake along with participants to celebrate the ROC National Day, which falls on Oct. 10.