Tsai says she 'respects' the fact of 1992 cross-strait talks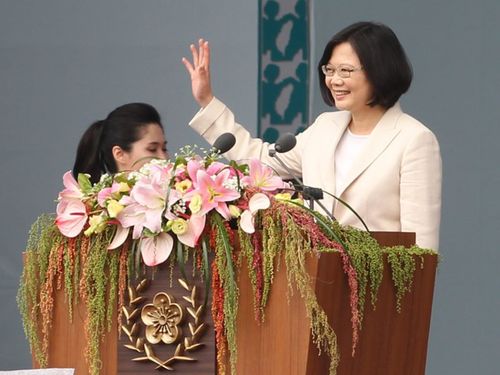 Taipei, May 20 (CNA) Taiwan's new president, Tsai Ing-wen (蔡英文) of the Democratic Progressive Party (DPP), said in her inaugural speech Friday that she "respects" the historical fact of the talks across the Taiwan Strait in 1992, when both sides arrived at "various joint acknowledgements and understandings."
In 1992, the semi-official Straits Exchange Foundation (SEF) in Taipei and its Chinese counterpart, the Association for Relations Across the Taiwan Straits (ARATS), arrived at various joint acknowledgements and understandings through communication and negotiations, Tsai said.
"It was done in a spirit of mutual understanding and a political attitude of seeking common ground while setting aside differences," she said. "I respect this historical fact."
Since 1992, interactions and negotiations across the strait over the years have accumulated outcomes which both sides must cherish and maintain, she said.
Based on such existing realities and political foundations, the stable and peaceful development of the cross-strait relationship must be continuously promoted, Tsai told the crowd gathered in front of the Presidential Office, shortly after her swearing-in ceremony.
Despite the mention of the 1992 talks, Tsai did not mention the term "1992 consensus" in her inaugural speech.
Both Beijing and Taiwan's outgoing government under President Ma Ying-jeou (馬英九) have said that the consensus should serve as a foundation for relations between Taiwan and China. The consensus refers to an understanding that both sides agree there is only one China with each side free to interpret its meaning.
Compared with Ma's Kuomintang party, Tsai is chairwoman of a party that is more inclined towards Taiwan independence.
(By Elaine Hou)ENDITEM/ke
Related:●Beijing describes Tsai's speech as 'incomplete test paper'●Tsai extends 'good will' to China in inauguration speech: scholars●New president advocates joint development in disputed waters●New government will tackle judicial reform: Tsai●Taiwan will build lasting partnerships with its allies: president●President vows to complete report on transitional justice●New President Tsai to pursue sustainable environment●Taiwan's new president vows to continue cross-strait cooperation●Tsai pledges to hand over 'better country' to next generation●Tsai Ing-wen sworn in as Taiwan's first female president●Tsai Ing-wen's political career in photos