Rumors of China cutting visitor numbers to Taiwan false: bureau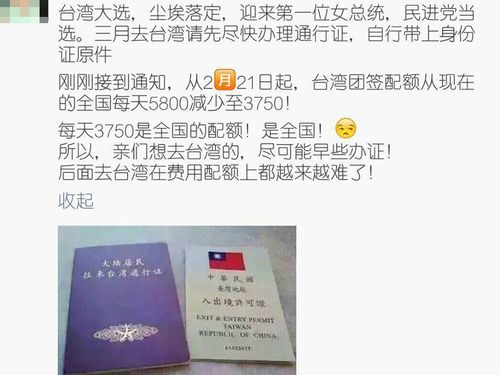 Taipei, Jan. 18 (CNA) Rumors that China will allow only 3,750 group tourists to visit Taiwan per day instead of the 5,000 per day allowed are false, Taiwan's Tourism Bureau said Monday.
A day after Tsai Ing-wen (蔡英文) of the Democratic Progressive Party won Taiwan's presidential election on Saturday, Chinese travel agents spread rumors that the number of group visitors from China allowed to travel to Taiwan would be reduced to 3,750 per day, starting Feb. 21.
The Tourism Bureau said in a news release, however, that after checking with Beijing, it confirmed that the rumors were false.
Taiwan currently has set the limit for Chinese nationals visiting the country as part of tour groups at 5,000 per day, but it plans to increase the quota for the Chinese New Year holiday season to an average of 8,000 per day in February.
That number will return to 5,000 per day starting March 1, the bureau said, adding that this may have resulted in a misunderstanding on the Chinese side.