Taiwan shares end little changed Monday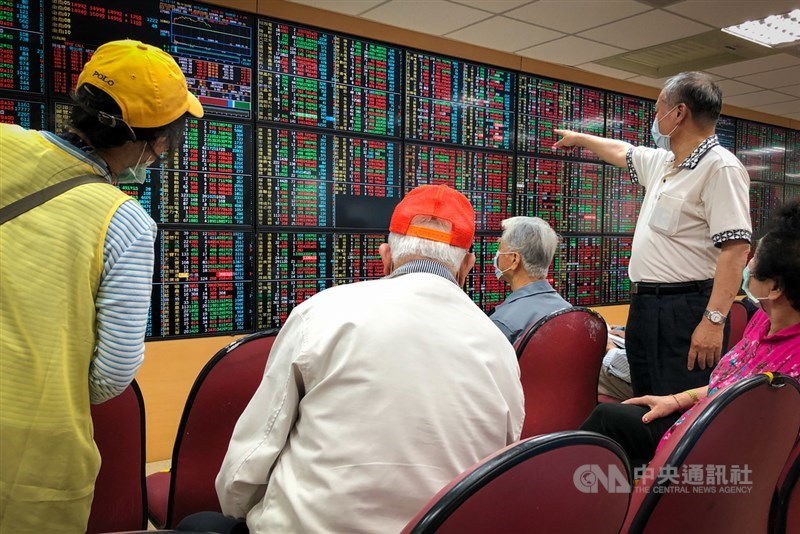 Taipei, Nov. 20 (CNA) Shares in Taiwan ended relatively unchanged Monday as many investors stayed cautious amid high technical hurdles ahead of a recent high of 17,463 points, dealers said.
After solid gains recently, large cap tech stocks, in particular contract chipmaker Taiwan Semiconductor Manufacturing Co. (TSMC), trended lower, preventing the broader market from moving higher.
The tourism sector, which has hoped for improved ties with Beijing to resume the flow of tourists between Taiwan and China, came under pressure after efforts to field a joint presidential ticket between the opposition Kuomintang (KMT) and Taiwan People's Party stalled.
A failure to field a joint ticket is seen as boosting the odds of the ruling Democratic Progressive Party staying in power in Taiwan's January 2024 presidential election, dealers said, which could lead to a continuation of stalled tourism exchanges.
The Taiex, the Taiwan Stock Exchange's benchmark weighted index, ended up 1.52 points, or 0.01 percent, at 17,210.47, after moving between 17,151.82 and 17,219.76. Turnover totaled NT$277.52 billion (US$8.76 billion).
The market opened down 11.13 points and continued to move in a narrow range the rest of the session following little movement in the Dow Jones Industrial Average and tech-heavy Nasdaq index at the end of last week.
TSMC
TSMC fell 0.52 percent to close at NT$577.00. The losses contributed to a 0.30 percent fall in the semiconductor sub-index, but the overall electronics index still rose 0.04 percent on gains posted by stocks related to artificial intelligence and optoelectronics.
"After a strong showing in recent sessions, the Taiex was approaching 17,643 points, the intraday high on July 31, so many investors preferred to take a pause," Concord Securities analyst Kerry Huang said.
Before Monday, the Taiex had gained 1,207.68 points, or 7.54 percent, since the beginning of this month, with TSMC rising 9.64 percent during that time.
"For TSMC, the stock was moving closer to the psychological level of NT$580.00 and turned weaker after the latest strong gains," Huang said. "Both TSMC and the Taiex need some time to consolidate before taking off again."
Despite the fall in TSMC shares, other semiconductor heavyweights moved higher with United Microelectronics Corp., a smaller contract chipmaker, up 1.11 percent to end at NT$50.30.
Tech stocks
Smartphone IC designer MediaTek Inc. gained 0.88 percent to close at NT$912.00, and Powerchip Semiconductor Manufacturing Corp., another smaller contract chipmaker, closed 0.86 percent higher at NT$29.30.
Outside the semiconductor industry, Huang said, AI related stocks and optoelectronics stocks, in particular smartphone camera lens supplier Largan Precision Co., attracted rotational buying, helping to stabilize the tech sector.
Among the AI related stocks, AI server maker Quanta Computer Inc. and rival Wistron Corp. rose 1.68 percent and 0.71 percent, respectively, to close at NT$212.00 and NT$99.70.
Giga-Byte Technology Co., a leading graphics card vendor for AI applications, closed up 1.08 percent to end at NT$233.00.
In the optoelectronics industry, which rose 1.68 percent, Largan, a supplier to Apple Inc., gained 3.54 percent to close at NT$2,195.00, and Genius Electronic Optical Co., another camera lens maker for iPhones, added 2.32 percent to end at NT$396.50.
Old economy sector
In the old economy sector, many stocks remained in the doldrums, with textile brand Far Eastern New Century Corp. falling 2.60 percent to close at NT$29.95, and Eclat Textile Co. shedding 1.04 percent to end at NT$572.00.
In addition, Nan Ya Plastics Corp. dropped 1.17 percent to close at NT$67.40, while Formosa Plastics Corp. ended unchanged at NT$80.80.
After rising 4.30 percent on Friday, the tourism index saw profit taking, and fell 4.08 percent Monday.
Tourism stocks
Among the major tourism stocks, Lion Travel Service Co. plunged 9.00 percent to close at NT$141.50, and Phoenix Tours International, Inc. shed 7.38 percent to end at NT$76.50.
Huang said any quick comeback for the tourism industry depends on whether the KMT and TPP will cooperate in the presidential poll to unseat the DPP, which could lead to better ties with China and Beijing allowing Chinese group tourists to visit Taiwan.
"Investors should also keep a close eye on an investor conference planned by AI chip designer Nvidia Corp. on Wednesday (Taipei time), which is expected to move AI-related stocks in Taipei and abroad," Huang said.
According to the Taiwan Stock Exchange, foreign institutional investors bought a net NT$9.31 billion in shares on the market Monday.