'Mount Pleasant is not idle': Hon Hai rebuts reports of broken promises in Wisconsin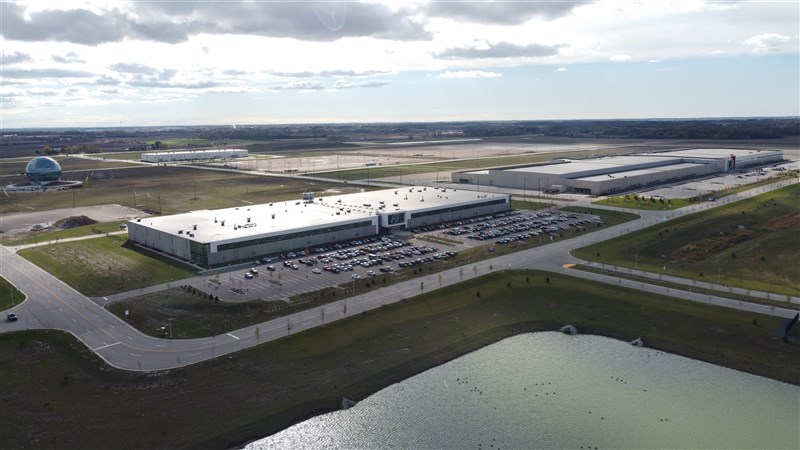 Taipei, Sept. 1 (CNA) Taiwan-based manufacturing giant Hon Hai Precision Industry Co. on Friday said around 1,000 people were employed at its Mount Pleasant, Wisconsin facility after a report in the Washington Post stated that the site was "largely empty."
In a statement, iPhone assembler Hon Hai, also known as Foxconn on the global market, said that the complex in Wisconsin's Racine County was "not idle" and was currently producing photovoltaic inverters and servers.
Hon Hai said that a glass dome at the center of the Mount Pleasant campus - which locals interviewed by the Washington Post described as showing "few signs of life" - was being used as a high-performance computing (HPC) center and internet communications control center.
Hon Hai had previously announced it would invest US$10 billion in the Wisconsin project, which was expected to create 13,000 high-tech jobs over six years after signing an agreement with Wisconsin Economic Development Corp. (WEDC) in 2017.
The company had originally claimed it would produce large-sized flat panels to target markets such as high-definition 8K TV panels and automotive displays in Wisconsin, a plan that ultimately did not come to fruition.
Successive announcements of agreements to manufacture robotic coffee kiosks and electric vehicles at Mount Pleasant similarly petered out without a single product rolling off the assembly lines, according to reports.
Meanwhile, in response to a Yahoo Finance story on Aug. 29 stating that Hon Hai had put up two buildings for sale "after years of neglected promises to bring thousands of jobs to Eau Claire and Green Bay," the company said that the properties were not relevant to production in Mount Pleasant.
Hon Hai said the property sale plan had the support of the government in Wisconsin, and that it was unlikely to affect the campus's production and operations.
In March, Hon Hai issued a statement, saying it had signed an agreement to partner with U.S.-based renewable energy supplier We Energies to develop clean energy on the Wisconsin campus.
Under the agreement, We Energies, which provides clean energy to more than 2.2 million customers in Wisconsin, will install, own and maintain about 2,000 solar panels on the campus, generating more than 1.5 million kilowatt-hours of power a year, according to Hon Hai.
At an investor conference held in mid-August, Hon Hai Chairman Liu Young-way (劉揚偉) said his company was studying the feasibility of opening electric vehicle battery production in Wisconsin, India, or Indonesia.