Taiwan's energy transition efforts 'far behind schedule': AmCham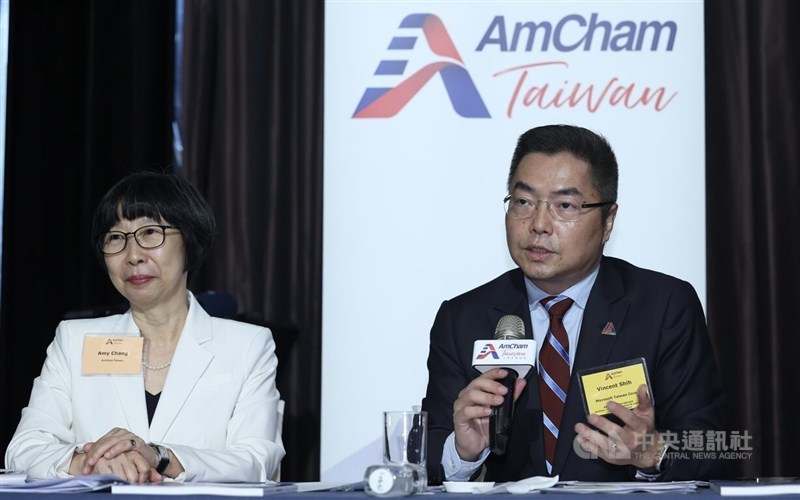 Taipei, June 7 (CNA) Taiwan has "fallen far behind schedule" in its efforts to significantly increase the country's renewable energy supply, according to the latest White Paper issued by the American Chamber of Commerce (AmCham) in Taiwan on Wednesday.
AmCham members have expressed concern over the lack of progress by the government of President Tsai Ing-wen (蔡英文) to "drastically alter its energy mix" by transitioning to renewable energy and phasing out nuclear power, AmCham Chairperson Vincent Shih (施立成) said at the report's launch in Taipei.
The group called on the government to provide "a clear roadmap" outlining how the government will ensure sustainable and competitive-priced renewable energy in the future, Shih said.
Amy Chang (張韶韵), president of the business group representing nearly 600 multinational companies operating in Taiwan, said such transparency was important for businesses and investors whose demand for green energy continues to grow.
"When and how much electricity can we get? What are the different pricing schemes for big and small consumers?....These are the questions we care about," she said.
Their comments came a day after Mark Liu (劉德音), chairman of Taiwan Semiconductor Manufacturing Co. (TSMC) -- the world's largest contract chipmaker -- expressed similar concerns over Taiwan's renewable energy supply in the company's annual general meeting.
Tsai's government pledged to phase out nuclear energy by 2025, while increasing renewable energy to 20 percent of the country's energy mix by then.
In 2022, however, renewable energy still only accounted for 8.3 percent of Taiwan's total electricity generation, compared to 8.2 percent for nuclear power and 82.4 percent for fossil fuels, according to Bureau of Energy statistics.
The development of wind power, in particular, has lagged behind, accounting for only 2.25 percent of Taiwan's energy mix in the first four months of 2023, after reaching only 1.23 percent in 2022.
The government's goal was to have 6.7 GW of installed capacity for wind power (including 5.5 GW of offshore wind power) by 2025, but had only achieved 2 GW of installed capacity as of May 2023, far behind schedule.
AmCham called on the government to relax or remove its local content policy imposed on foreign investors seeking to build offshore wind power farms in Taiwan, arguing that the policy had "caused scheduling delays" and "pushed up costs" in many projects, Shih said.
The European Chamber of Commerce Taiwan (ECCT) made similar calls on the issue in May, saying the government's local content policy would hinder Taiwan's ambitions to achieve energy security and reach net-zero emissions by 2050.
May 25: Taiwan urged to ease requirements for EU green energy developers
Feb. 22: Taiwan job market to remain short of candidates in 2023: ECCT report
Taiwan's government has previously said the policy was designed to encourage the growth of a local supply chain for the offshore wind industry and remains in line with World Trade Organization rules.
The AmCham's paper also urged the government to "more actively" promote the development of other alternative energy sources, such as geothermal energy and green hydrogen.
The paper, which provides an assessment of Taiwan's business climate and includes policy suggestions for both Taipei and Washington, also requests "closer monitoring of the notice-and-comment process" by Taiwan's government.
The government usually makes public its proposed new or revised regulations 60 days before they come into effect and allows for comments by relevant stakeholders during that period for its consideration.
Many new regulations were implemented without sufficient public notice, however, and in some cases without any notice at all, according to the paper.
Describing good regulatory practices as a "linchpin" of Taiwan's continued economic development and success, Shih urged the government to honor its policy and provide explanations should there be any exceptions.
Related News
April 19: Taiwan will not be 'provocateur' in cross-strait relations: Tsai
Feb. 2: Foreign firms in Taiwan increase 'contingency' plans amid geopolitical tensions