Taiwan shares rebound on U.S. gains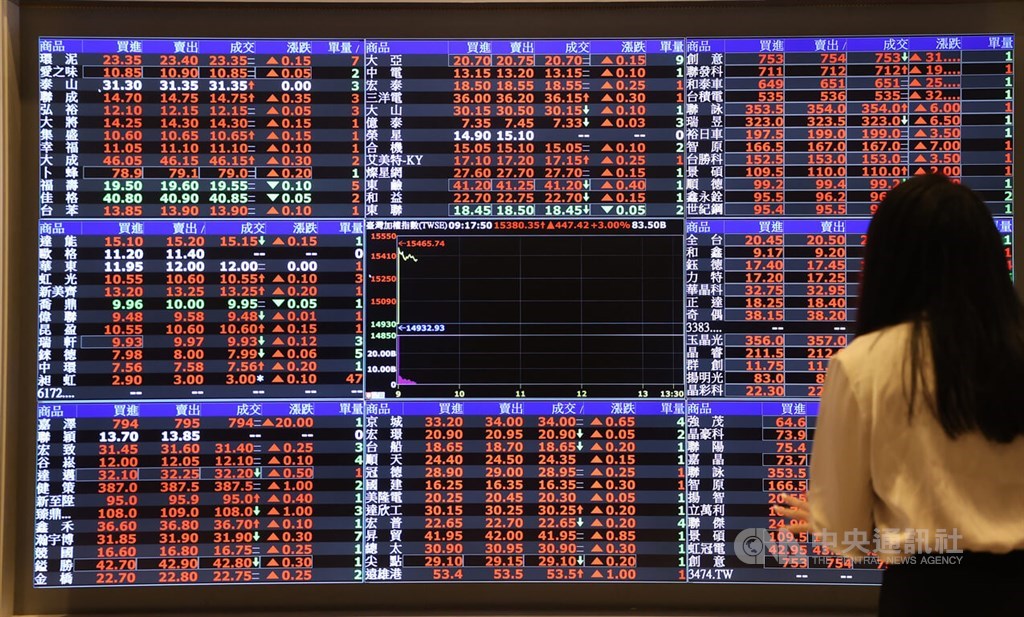 Taipei, March 21 (CNA) Shares in Taiwan staged a technical rebound Tuesday with buying sparked by a rally on U.S. markets overnight in the wake of financial regulators' support for financially troubled banks, dealers said.
The local financial sector received a boost from the recovery by U.S. banking stocks on Monday, while buying also rotated to electronic components and information and communications providers, with weakness seen among select semiconductor stocks, dealers added.
The Taiex, the weighted index on the Taiwan Stock Exchange (TWSE), ended up 93.48 points, or 0.61 percent, at 15,513.45 after moving between 15,437,95 and 15,547.97. Turnover totaled NT$220.20 billion (US$7.19 billion).
The market opened up 0.12 percent in a knee-jerk reaction to a 1.20 percent increase on the Dow Jones Industrial Average and a 0.39 percent rise on the tech-heavy Nasdaq index overnight, after a forced takeover of Credit Suisse by UBS engineered by the Swiss government and new funding provided by American regulators to embattled U.S. banks, dealers said.
The local financial index outperformed the broader market, rising 0.92 percent, while late session buying boosted contract chipmaker Taiwan Semiconductor Manufacturing Co. (TSMC), offsetting the losses suffered by other semiconductor stocks by the end of the session, dealers said.
The semiconductor sub-index under performed the main board, rising only 0.57 percent.
"Judging from the latest gains enjoyed by financial stocks at home and abroad, I think investors feel relieved for now in the wake of U.S. and Swiss regulators' rescue efforts," Mega International Investment Services Corp. analyst Alex Huang said.
In the local financial sector, Cathay Financial Holding Co. gained 1.37 percent to close at NT$40.75, and China Development Financial Holding Co. rose 1.24 percent to end at NT$12,25.
E. Sun Financial Holding Co. added 0.84 percent to close at NT$23.95, and Fubon Financial Holding Co. ended up 0.55 percent at NT$55.30.
"Local financial stocks encountered heavy losses in recent sessions, so today's buying largely came from bargain hunters," Huang said. "Volatility could be ahead as it is too early to say the chaos in the global banking industry is over."
Huang said TSMC rose 0.98 percent to close at NT$517.00 as late session buying helped the stock overcome the nearest technical resistance ahead of the 20-day moving average of NT$516.00.
"The stock has left the consolidation range of NT$501.00 and NT$516.00 for now," he said.
Shares in smartphone IC designer MediaTek Inc. rose 0.13 percent to end at NT$771.00, while United Microelectronics Corp. (UMC), a smaller contract chipmaker, lost 0.75 percent to close at NT$52.80.
IC packaging and testing services provider ASE Technology Holding Co. fell 2.28 percent to end at NT$107.00, and TSMC's application specific integrated circuit (ASIC) design subsidiary Global Unichip Corp. shed 3.85 percent to close at NT$1,125.00.
"Many large tech stocks moved into the doldrums as foreign institutional investors refrained from buying," Huang said. "But, local investors remained keen to trade and lift smaller tech stocks throughout the session."
The information and communications services industry, which is full of smaller-sized firms, rose 2.33 percent with Mercuries Data Systems Ltd. soaring 10 percent, the maximum daily increase, to end at NT$14.70.
In addition, Syscom Computer Engineering Co. rose 4.57 percent to close at NT$68.70, Ares International Corp. gained 3.76 percent to end at NT$49.65, and Zero One Technology Co. added 1.25 percent to close at NT$56.70.
Among other smaller stocks favored by local investors, connector supplier Lotes Co. also grew 3.38 percent to end at NT$918.00.
Also in the electronics sector, iPhone assembler Hon Hai Precision Industry Co. rose 0.98 percent to close at NT$103.50, while flat panel firm AUO Corp. gained 1.39 percent to end at NT$18.25 after the company said a day earlier that it has received rush orders on TV panels.
AUO added that the industry is expected to improve in the second half of this year from the first half.
In the old economy sector, Formosa Plastics Corp. rose 0.56 percent to close at NT$90.50, and Formosa Petrochemical Corp. added 0.25 percent to end at NT$81.70.
Food brand Uni-President Enterprises Corp. gained 0.43 percent to close at NT$69.30, while rival Wei Chuan Foods Corp. ended unchanged at NT$20.05.
Elsewhere in the old economy sector, the transportation industry under performed the main board, falling 0.52 percent.
In the industry, Evergreen Marine Corp., the largest container cargo shipper in Taiwan, lost 0.93 percent to close at NT$160.50, and rivals Yang Ming Marine Transport Corp. and Wan Hai Lines Ltd. fell 1.06 percent and 0.86 percent, respectively, to end at NT$65.10 and NT$69.00.
"Despite the gains on the Taiex, turnover remained capped as many investors stayed on the sidelines ahead of a policymaking meeting by the U.S. Federal Reserve scheduled to start later today," Huang said.
"Investors want to hear the Fed's comments for more clues about the current rate hike cycle and the economic conditions amid banks' financial woes."
According to the TWSE, foreign institutional investors sold a net NT$2.88 billion worth of shares on the main board, although the Taiex moved higher Tuesday.