COST OF LIVING
/
Facing criticism, agriculture chief apologizes for egg shortage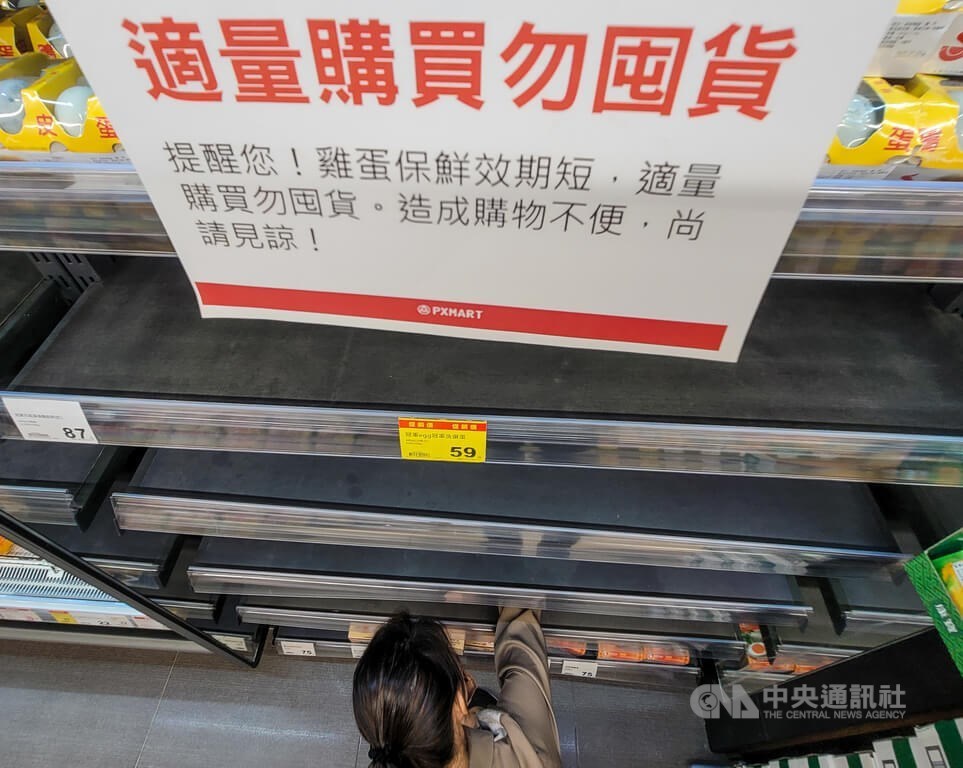 Taipei, Feb. 22 (CNA) Council of Agriculture (COA) chief Chen Chi-chung (陳吉仲) apologized to the public on Tuesday for egg supply chain issues that have resulted in shortages of the food staple in markets around Taiwan.
In a social media post earlier Tuesday, Foxconn founder and possible 2024 presidential candidate Terry Gou (郭台銘) wrote that the current "egg crisis" is "sparing no one" and, in the short-term, has no end in sight.
"I want to remind the Democratic Progressive Party government once again: the people want a government that solves problems, not a government that explains them," Gou said.
In a Facebook post Tuesday evening, Chen responded to the criticism, saying that "when Terry Gou becomes concerned about the egg supply, it shows just how important the sustainability of Taiwanese agriculture is."
Chen apologized to consumers for the shortage, but argued that because eggs are a biological product, it is impossible to quickly ramp up production in the way that can be done in manufacturing.
In Taiwan, Chen said, egg-laying hens are procured from feedlots where they are raised for the first two to three months of their lives.
The feedlots get their chickens from breeding farms, which in turn import chickens from the United States and other countries to replenish their flocks, he said.
"If there is a problem in any one link in this chain, it causes a domestic egg shortage," Chen said.
In the current case, Chen said, the shortage has been driven by a global outbreak of the H5N1 strain of avian influenza, which has affected poultry and egg production across the U.S., Europe, Japan and Korea.
In Taiwan, authorities have confirmed 74 cases of H5N1 to date and culled 1.03 million chickens on the affected farms, he said.
To replace the culled animals, Chen said Taiwan had been increasing its imports of breeding chickens since late last year.
The government is also working with breeding farms to ensure they are supplying at least 490,000 chicks per week to feedlots, Chen said, though he acknowledged there would be a delay before these actions were felt in the marketplace.
Chen's post did not give a specific timeframe for when the situation would improve, and instead focused on the importance of modernizing Taiwan's poultry industry to increase its resilience against future bird flu outbreaks.
In separate comments Tuesday, however, Vice Premier Cheng Wen-tsan (鄭文燦) estimated that the shortage would ease sometime in early March.
In recent years, Taiwan's daily egg demand has climbed to around 24 million, while its daily production capacity during the current shortage has been about 22.6 million, according to Chen.
View All