Taiwan shares soar to end above 15,000 points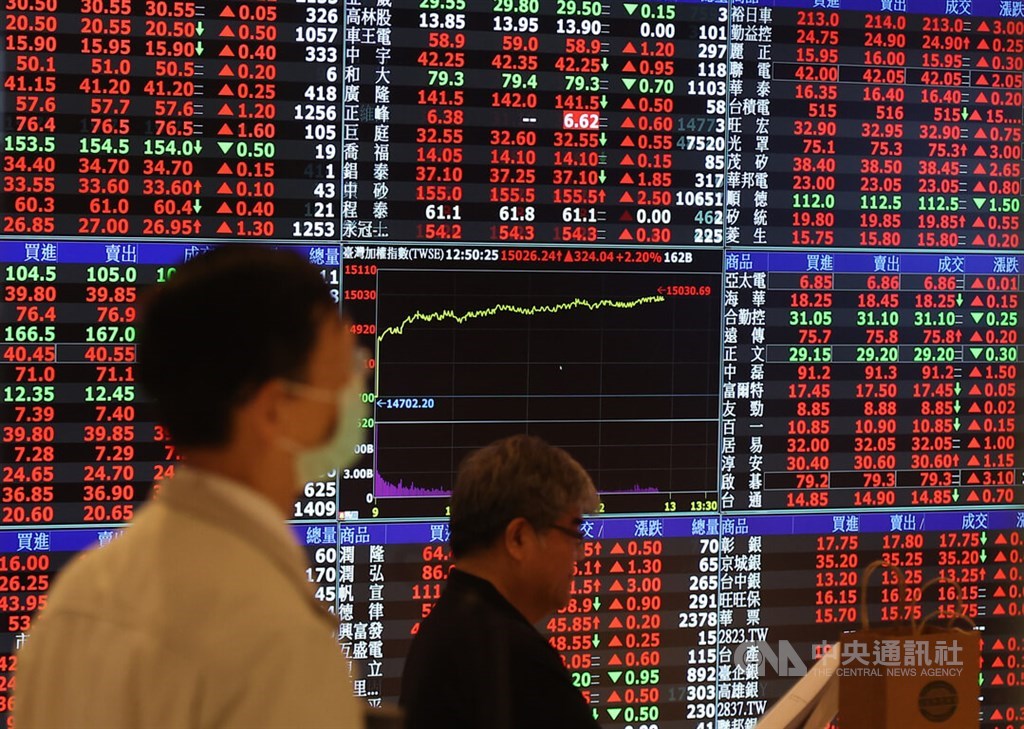 Taipei, Aug. 5 (CNA) Shares in Taiwan moved sharply higher, rising by more than 300 points Friday as investors put aside their worries over tensions across the Taiwan Strait to pick up bargains throughout the session, dealers said.
On the back of a strong showing by semiconductor stocks on U.S. markets overnight, the local bellwether electronics sector led the upturn to vault the broader market past the 15,000-point mark at the end of the session, dealers said.
The Taiex, the weighted index on the Taiwan Stock Exchange (TWSE), closed up 333.84 points, or 2.27 percent, at 15,036.04, after moving between 14,802.34 and 15,041.41. Turnover totaled NT$202.78 billion (US$6.76 billion).
The market opened up 0.68 percent on a technical rebound from a session earlier, when the Taiex fell 0.51 percent on the first day of China's live-fire military drills in multiple locations around Taiwan in response to a 19-hour visit by U.S. House Speaker Nancy Pelosi Wednesday, dealers said.
Buying accelerated with large cap semiconductor stocks in focus as investors took their cue from a 0.92 percent increase on the Philadelphia Semiconductor Index in the U.S. Thursday, while old economy and financial stocks played catch-up, pushing up the broader market, they said.
The Taiex ended above the intraday high of 15,035 points seen on July 29, to become technically healthier after recent weakness, dealers said.
Tech-led rally
"Thanks to the lead by tech stocks on U.S. markets overnight, investors here temporarily ignored the on-going military drills launched by China," Hua Nan Securities analyst Kevin Su said, referring to the 2.53 percent gains posted by the electronics sector and the 3.26 percent increase of the semiconductor sub-index.
Contract chipmaker Taiwan Semiconductor Manufacturing Co. (TSMC), the most heavily weighted stock on the local market, returned to the spotlight, rising 3.20 percent to close at the day's high of NT$516.00 after its American depositary receipts (ADRs) rose 2.21 percent on the U.S. markets overnight.
TSMC's upturn contributed about 130 points to the Taiex's increase Friday.
"After today's gains, there is room for TSMC shares to move toward the NT$550 mark based on its healthy fundamentals," Su said.
Among other semiconductor stocks, United Microelectronics Corp., a smaller contract chipmaker gained 5.38 percent to end at NT$42.15 after a 1.34 percent rise in its ADRs overnight. In addition, smartphone IC designer MediaTek Inc. rose 4.82 percent to close at NT$171.00, and power management IC designer Silergy Corp. added 4.36 percent to end at NT$550.00.
Also in the electronics sector, Largan Precision Co., a supplier of smartphone camera lenses to Apple Inc., rose 2.94 percent to close at NT$2,100.00 and rival Genius Electronic Optical Co. surged 6.29 percent to end at NT$397.00.
However, shares in iPhone assembler Hon Hai Precision Industry Co., underperformed the broader electronics sector, closing unchanged at NT$108.00, while networking device brand D-Link Corp. rose 3.28 percent to end at NT$17.30.
Government fund intervention?
"I suspect the National Stabilization Fund jumped onto the trading floor to buy into these market heavyweights in a bid to boost investor sentiment amid China's military threats," Su said.
The NT$500 billion stabilization fund has been authorized to intervene in the equity market since July 12 to serve as a buffer against unexpected external factors that might disrupt market movement.
"The fund also hunted bargains among non-tech stocks today and the transportation sector was highlighted based on its relatively low valuation," Su said.
The transportation sector rose 3.65 percent with Evergreen Marine Corp., the largest container cargo shipper in Taiwan, rising 5.53 percent to close at NT$99.20, and rivals Yang Ming Marine Transport Corp. and Wan Hai Lines Ltd. gaining 3.43 percent and 3.37 percent, respectively, to end at NT$90.50 and NT$107.50.
Among airline stocks, which were boosted by hopes that the government will ease border control soon, China Airlines rose 3.33 percent to close at NT$21.75, and EVA Airways gained 3.76 percent to end at NT$31.70.
The financial sector rose 1.69 percent, with Fubon Financial Holding Co. increasing 1.79 percent to close at NT$57.00, Cathay Financial Holding Co. adding 2.01 percent to end at NT$45.75, and CTBC Financial Holding Co. gaining 3.37 percent to close at NT$23.00.
Investors remain cautious
"Despite the significant gains, turnover remained moderate, indicating many investors still remain on the sidelines, watching closely how the Chinese military drills develop," Su said. "Moreover, Washington is scheduled to release July job data later today, which is expected to provide important clues about how the U.S. Federal Reserve (Fed) will carry out its rate hike cycle."
According to the TWSE, foreign institutional investors bought a net NT$24.73 billion worth of shares on the main board Friday.