Uni-President Group to take full ownership of Carrefour Taiwan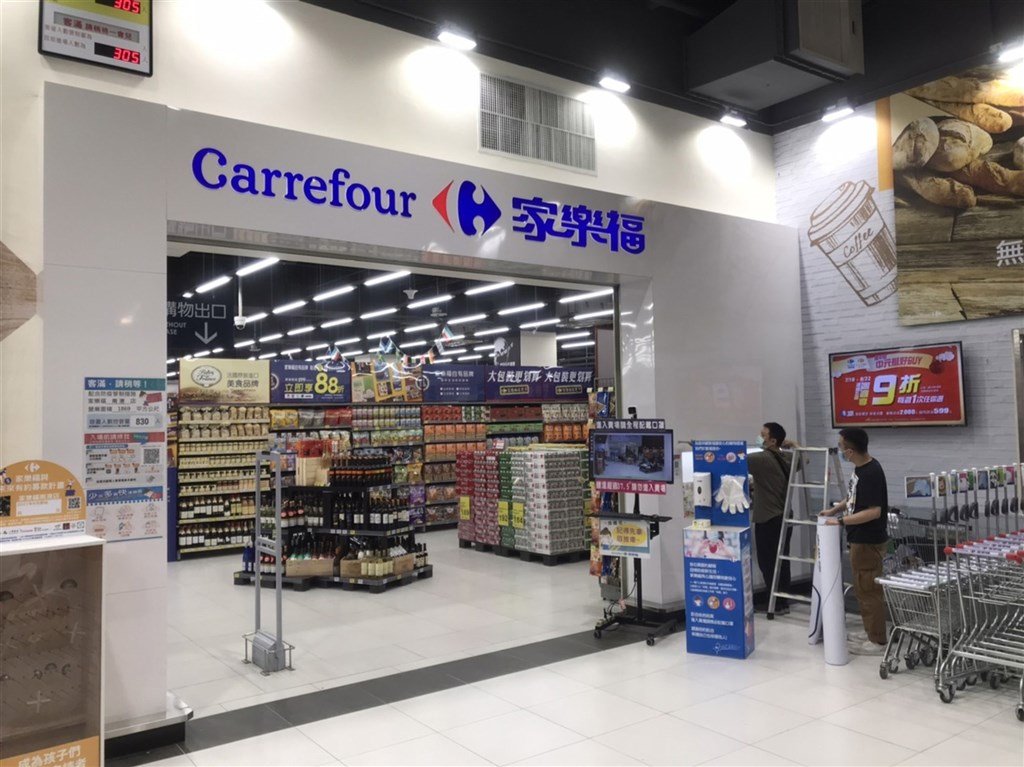 Taipei, July 20 (CNA) Uni-President Group conglomerate members President Chain Store Corp. and Uni-President Enterprises Corp. have agreed to take full ownership of Carrefour Taiwan through the acquisition of a 60 percent stake owned by the hypermarket's French parent company.
At a news conference held late Tuesday night, Chen Kuo-hui (陳國輝), the chief financial officer of Uni-President Enterprises, said his firm would spend NT$23.9 billion to acquire a 49.5 percent share in Carrefour Taiwan, with President Chain Store spending NT$5.1 billion for 10.5 percent, to add to the 40 percent of the company currently owned by the two Uni-President Group members.
The total NT$29 billion consideration translated into an acquisition price of about NT$65 per share, according to Uni-President Group.
After the acquisition, Chen said Uni-President Enterprises would hold a 70 percent stake in Carrefour Taiwan with President Chain Store owning the remaining 30 percent.
The acquisition was approved by the boards of Uni-President Enterprises and President Chain Store Tuesday, Chen said, adding that the two companies would file an application with the Fair Trade Commission (FTC) for regulatory approval in 15 days.
The transaction is expected to be completed in mid-2023 should the deal gain the blessing of the FTC, which last week conditionally approved an NT$11.5 billion takeover by PX Mart of hypermarket operator RT-Mart, a rival of Carrefour Taiwan.
Carrefour's 68 hypermarket stores, 272 supermarkets, and 129 Carrefour-owned stores will come under full ownership of the Uni-President Group, which will also retain the Carrefour brand rights in Taiwan.
In addition, the Taiwanese conglomerate is expected to obtain property assets of logistics centers and some hypermarket stores currently owned by the joint venture.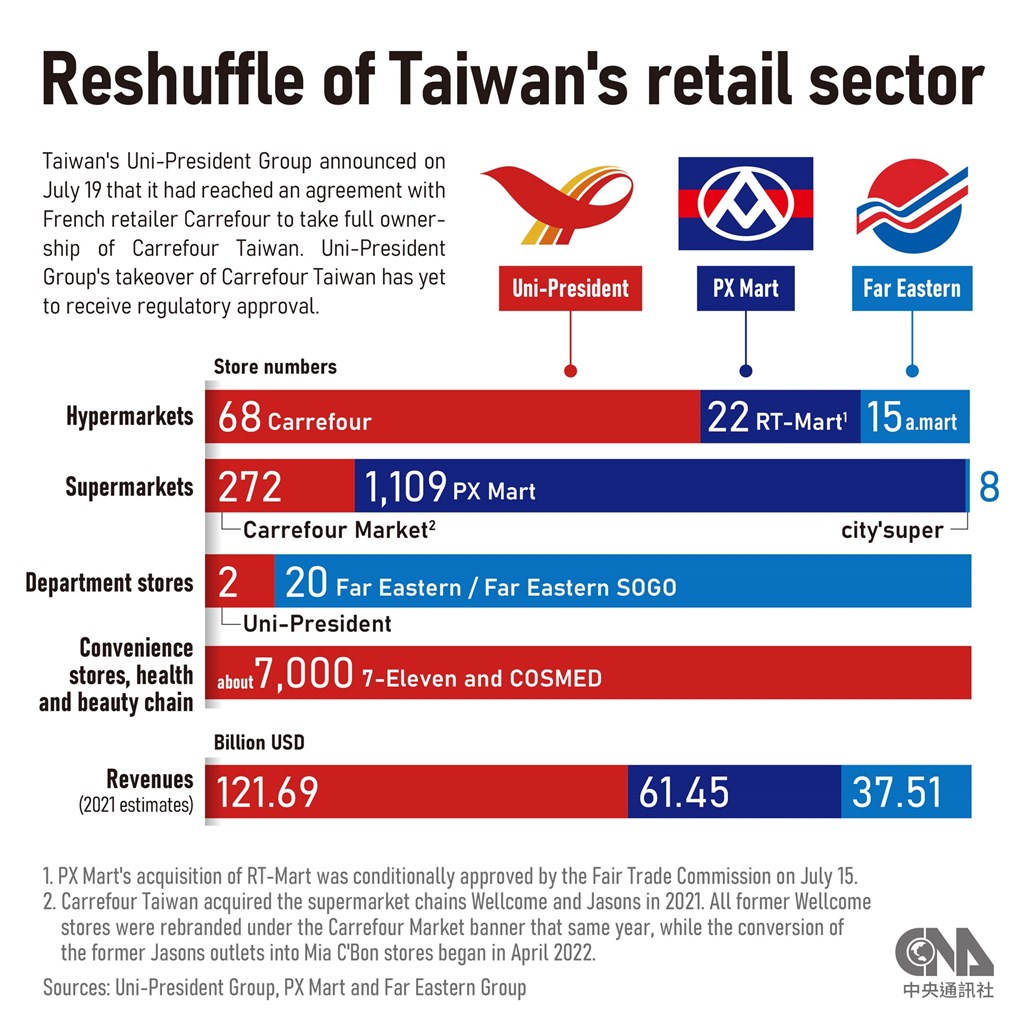 Uni-President Group is currently the largest convenience store operator in Taiwan through ownership of its 6,503 7-Eleven outlets, while it also operates health and beauty Cosmed stores and Uni-President Department Stores in the country.
According to local statistics, revenue generated by Taiwan's hypermarket industry totaled NT$228.7 billion in 2020, with Costco holding a leading 42.8 percent share in the market, ahead of Carrefour Taiwan (32.3 percent), RT-Mart (11.7 percent), and A. Mart (4.6 percent).
Wu Shih-hao (吳師豪), a professor of Department of Marketing and Distribution of National Kaohsiung University of Science and Technology, said the acquisition is expected to help Uni-President Group to cement its lead in Taiwan's retail industry.
Wu said the acquisition is expected to allow the conglomerate to own a comprehensive retail network in Taiwan by holding various distribution channels, adding through the presence of its existing virtual distribution network, the conglomerate is expected to meet demand from a wide range of consumers.
After the transaction, Carrefour will withdraw from Taiwan's retail market as part of its move to leave the Asian market. In 2019, The French retail giant sold its assets in China.