Taiwan shares end higher as TSMC boosted by late session buying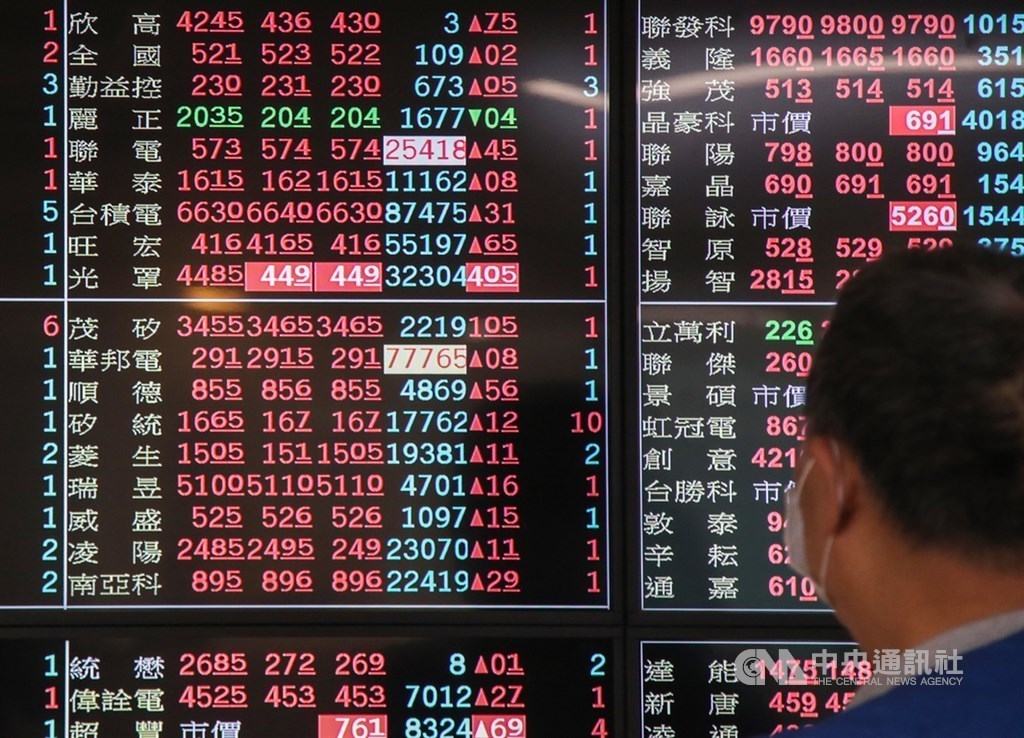 Taipei, Sept. 27 (CNA) Shares in Taiwan closed higher Monday after coming off earlier lows as contract chipmaker Taiwan Semiconductor Manufacturing Co. (TSMC), the most heavily weighted stock in the local market, climbed out of its downturn on the back of last-ditch buying, dealers said.
Many other tech stocks came under pressure amid concerns that the ongoing power rationing imposed by more than 10 provinces in China would take a toll on their sales, while buying rotated to several old economy stocks to lend additional support to the broader market, dealers added.
The Taiex, the weighted index on the Taiwan Stock Exchange, ended up 53.58 points, or 0.31 percent, at 17,313.77, after moving between 17,235.68 and 17,335.99. Turnover totaled NT$290.63 billion (US$10.49 billion).
The market opened up 0.10 percent on follow-through buying from Friday, when the Taiex closed up 1.07 percent, and soon went beyond the nearest technical resistance ahead of 17,300 points, dealers said.
But, selling emerged in select tech stocks which have operations in China in the wake of power rationing there to push down the main board to negative territory before TSMC managed to bounce back, vaulting the Taiex back to the 17,300-point level by the end of the session, dealers added.
"The earlier downward pressure made TSMC look cheap in terms of its sound fundamentals," MasterLink Securities analyst Tom Tang said. "So bargain hunters rushed to pick up the stock by taking advantage of its earlier losses and the Taiex also rebounded, accordingly."
"I think some investors simply wanted to manipulate the Taiex by using TSMC's heavy weighting to prevent the Taiex from closing lower from the previous session," Tang said.
TSMC rose 0.67 percent to close at the day's high of NT$602.00, up from a low of NT$593.00.
Led by TSMC, the index of the bellwether electronics sector rose 0.40 percent to end at 819.12 after dipping to the day's low of 812.16, while the semiconductor sub-index closed up 0.73 percent.
Among other semiconductor stocks, United Microelectronics Corp., a smaller contract chipmaker, lost 1.04 percent to end at NT$66.30, and integrated circuit packaging and testing services provider ASE Technology Holding Co. dropped 1.70 percent to close at NT$115.50.
Smartphone IC designer MediaTek Inc. rose 4.24 percent to end at NT$959.00.
"Many electronics component stocks, in particular in the printed circuit board (PCB) industry, moved lower as investors were shocked by China's power rationing measures," Tang said. "There have been growing fears that such power curbs will continue beyond September."
Several local governments in China imposed electricity rationing over the past month to enforce environmental regulations, while the country also tightened coal supplies for the same purpose.
The power curbs have been effective in more than 10 provinces, such as production hubs Guangdong, Jiangsu and Zhejiang provinces.
Among the falling suppliers of PCBs and related materials affected by the power rationing, Elite Material Co. plunged 5.04 percent to close at NT$226.00, and Unimicron Technology Corp. shed 3.50 percent to end at NT$138.00.
Also in the electronics sector, iPhone assembler Hon Hai Precision Industry Co. closed unchanged at NT$107.50 after production at its plant located in Suzhou, Jiangsu Province, was suspended for four days due to the power rationing.
In addition to TSMC's gains, "the bright spot for today's market was that many old economy stocks in the raw material industries attracted strong rotational buying to offset the impact from China's power rationing," Tang said.
The petrochemical sector rose 2.85 percent on the back of a spike in international crude oil prices with Formosa Plastics Corp. up 5.19 percent to close at NT$111.50, and China Petrochemical Development Corp. up 5.18 percent to end at NT$13.20.
In the paper sector, which rose 8.41 percent on strong global demand, Cheng Loong Corp., Chung Hwa Pulp Corp., and YFY Inc. rose 10 percent, the maximum daily increase, to close at NT$37.50, NT$25.55, and NT$36.50, respectively.
"Investors should keep a close eye on the power rationing development in China," Tang said. "The movement of the U.S. markets is expected to also dictate the global markets, including Taiwan."
According to the TWSE, foreign institutional investors bought a net NT$3.85 billion worth of shares on the main board Monday.