CORONAVIRUS
/
Macronix plans to buy 200,000 COVID-19 vaccine doses
Taipei, July 28 (CNA) Macronix International Co., a leading Taiwanese memory chipmaker, said its plan to buy 200,000 COVID-19 vaccine doses has been approved by its broad of directors.
In a statement Tuesday, Macronix said it will spend NT$2 billion (US$71.42 million) on COVID-19 vaccine doses, reserving 40 percent of them for its own employees and employees of suppliers and donating the remaining 60 percent to the government.
Macronix said it intends to purchase the Moderna vaccine or another certified by the World Health Organization.
The plan was conceived to lower the risk of infection among its employees to keep them safe as they do business internationally, the company said, but it still has to be approved by the government.
Macronix's plan follows efforts by other private organizations to purchase vaccines after the central government had trouble procuring vaccines or getting those it had ordered delivered.
On July 12, a Hon Hai Precision Industry Co. foundation and Taiwan Semiconductor Manufacturing Co. (TSMC) announced they will each donate 5 million doses of the Pfizer-BioNTech COVID-19 vaccine to the government.
The donations by the two organizations, which were authorized by the government in June, came after the two companies signed agreements with Shanghai Fosun Pharmaceutical Group Co., the distributor of the Pfizer-BioNTech vaccine in Greater China.
The Tzu Chi Foundation said on July 21 that it had also signed an agreement to purchase 5 million doses of the Pfizer-BioNTech vaccine and will donate them to the government.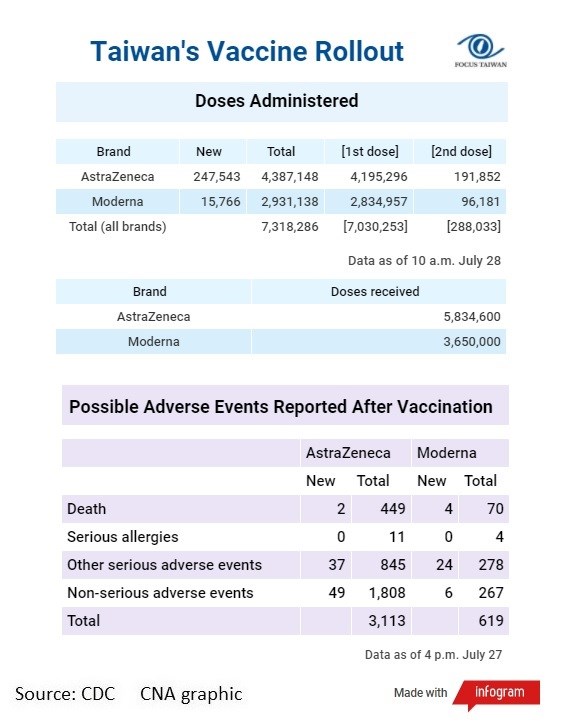 View All