Taiwan shares end at new high as electronics sector soars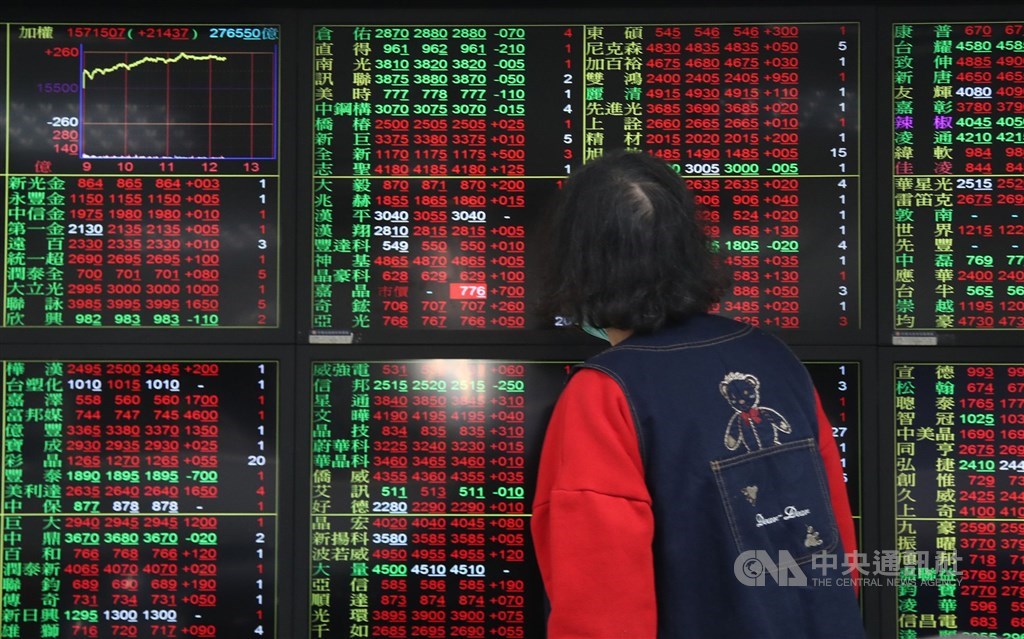 Taipei, Jan. 13 (CNA) Shares in Taiwan moved sharply higher by more than 260 points to close at a new high on Wednesday, thanks to a surge in the bellwether electronics sector, casting off a slowdown seen a session earlier, in a market awash in liquidity, dealers said.
Contract chipmaker Taiwan Semiconductor Manufacturing Co. (TSMC) again led the tech sector, steaming ahead on continued optimism toward its business outlook.
Buying also spread to other tech stocks, particularly in the electronic component sector, which pushed the broader market up further, the dealers said.
The weighted index on the Taiwan Stock Exchange (TWSE), or Taiex, ended up 269.28 points, or 1.74 percent, at 15,769.98, after moving between 15,550.16 and 15,778.52, on turnover of NT$360.79 billion (US$12.88 billion).
Wednesday's high was also a historic intraday high.
The market opened up 0.32 percent in a technical rebound from a session earlier, when the Taiex fell 0.36 percent, and momentum continued as TSMC continued to attract buying amid hopes that the company will deliver positive leads in an investor conference scheduled for Thursday, the dealers said.
With TSMC climbing further to hit a new high at the end of the sessions and other tech stocks on the rise, the main board also closed at a record high, they said.
"TSMC dominated the session again, amid continued optimism toward its fundamentals," Concord Securities analyst Kerry Huang said. "As the stock accounts for about 30 percent of the Taiex's total market capitalization, it was no surprise that the Taiex scored significant gains after TSMC surged by more than 2 percent."
Many foreign brokerages raised their target prices on TSMC shares, with one of them even forecasting that the stock will rise to NT$800 in the hope of positive leads to be given in the upcoming investor conference.
TSMC rose 2.37 percent to close at the day's high of NT$605.00, boosting the stock's market cap to a new high of NT$15.65 trillion, up NT$363 billion from a session earlier.
TSMC's gains contributed about 119 points to the Taiex increase and boosted the electronics sector and the semiconductor sub-index by 2.36 percent and 2.73 percent, respectively.
"The market is full of ample liquidity, as foreign investors have continued to move funds into the country. Therefore, other tech stocks have also ridden the wave of rising liquidity," Huang said, referring to a stronger Taiwan dollar in the local foreign exchange market on the back of further fund inflows.
TSMC's buying spread to other semiconductor stocks, with integrated circuit (IC) packaging and testing provider ASE Technology Holding Co. up 8.03 percent to close at NT$99.60, and display IC designer Novatek Microelectronics Corp. up 5.22 percent to end at NT$403.00.
Smartphone IC designer MediaTek Inc. rose 4.49 percent to close at NT$884.00, and United Microelectronics Corp., a smaller contract chipmaker, gained 3.20 percent to end at NT$50.00.
Electronic component suppliers also attracted strong buying, Huang said. Among them, multi-layer ceramic capacitor maker Yageo Corp. rose 5.04 percent to close at NT$604.00, and server supplier Wiwynn Corp. gained 7.16 percent to end at NT$763.00.
Also in the tech sector, iPhone assembler Hon Hai Precision Industry Co. rose 2.40 percent to close at NT$106.50, and Largan Precision Co., a supplier of smartphone camera lenses to Apple Inc., added 0.17 percent to end at NT$2,995.00.
"The electronics sector made up more than 70 percent of the total turnover today, so compared with tech stocks, the gains posted by non-tech stocks appeared mostly minor," Huang said.
Among the old economy stocks, Formosa Plastics Corp. rose 0.41 percent to close at NT$98.00 and Nan Ya Plastics Corp. added 0.54 percent to end at NT$74.00, while food brand Uni-President Enterprises Corp. closed unchanged at NT$67.00.
As investors locked in their gains built up a session earlier, Evergreen Marine Corp., the largest shipping company in Taiwan, fell 2.85 percent to close at NT$37.45, and Yang Ming Marine Transport Corp. lost 6.61 percent to end at NT$24.00.
In the financial sector, which rose 0.52 percent, Capital Securities rose 2.49 percent to close at NT414.40, while E. Sun Financial Holding Co. ended unchanged at NT$25.30.
"How far the Taiex will go will depend on how TSMC performs, so it is critical to heed what TSMC will deliver on Thursday," Huang said.
"It is hard to predict the short-term ceiling for the Taiex, but the main board could see the nearest technical support level at around 15,500 points if it faces any major pullback," he said.
According to the TWSE, foreign institutional investors bought a net NT$15.55 billion-worth of shares on the main board Wednesday.