Taiwan shares end lower on profit taking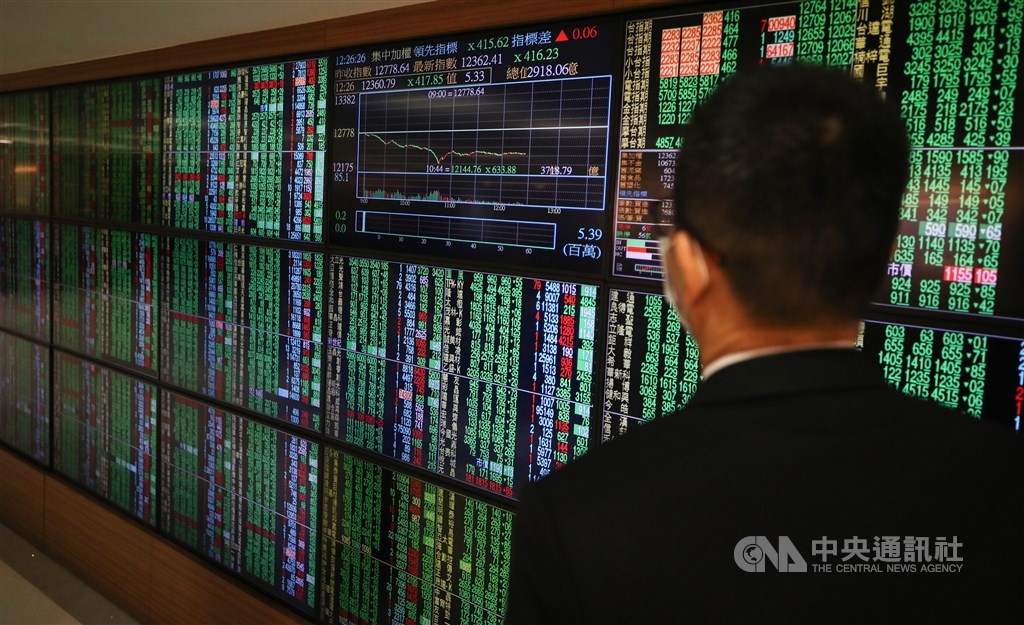 Taipei, Nov. 25 (CNA) Shares in Taiwan closed lower Wednesday despite gains on Wall Street overnight because of stiff technical resistance as the Taiex closed in on 13,900 points, dealers said.
Selling focused on the bellwether electronics sector, which had driven the broader market sharply higher in recent sessions, while non-tech stocks ended mixed, they said.
The Taiex, the Taiwan Stock Exchange's (TWSE) benchmark weighted index, closed down 68.3 points, or 0.49 percent, at 13,738.83, after moving between 13,731.81 and 13,893.20. Turnover was NT$263.61 billion (US$9.24 billion).
The market opened up 0.39 percent and hit the day's high 15 minutes into the session after the Dow Jones Industrial Average breached 30,000 points for the first time overnight amid continued optimism over COVID-19 vaccine developments, dealers said.
But as the Taiex approached 13,900 points, downward pressure set in, eventually pushing the index into negative territory as investors rushed to unload tech stocks, in particular semiconductor stocks, to cash in on recent gains, dealers said.
"After the recent gains, valuations appeared high, especially in the bellwether electronics sector, leading many investors to protect against a major technical pullback by selling tech stocks," Concord Securities analyst Kerry Huang said.
"Today's initial upturn simply provided investors with a good opportunity to lock in profit after the Taiex moved higher and almost touched 13,900 points, where there were high technical hurdles," Huang said.
Among those hurdles was a relatively high price-to-book ratio of 1.9. The ratio compares a company's stock price to its book value and provides a gauge of market valuation.
Huang said the optimism over progress in developing COVID-19 vaccines has been factored into the index, so "it was now time to lock in profits, with semiconductor stocks the main targets."
Contract chipmaker Taiwan Semiconductor Manufacturing Co., (TSMC), the most heavily weighted stock in the local market, fell 1.02 percent to close at NT$487.00, after hitting a high of NT$495.50.
"A ceiling of NT$500 remains true for TSMC," Huang said. "As the stock turned weaker, the broader market just followed."
Selling in TSMC was also seen among other semiconductor stocks, with memory chipmaker Nanya Technology Corp. down 2.39 percent to end at NT$63.90, and integrated circuit designer MediaTek Inc. down 2.43 percent to close at NT$724.00.
Bucking the downturn, United Microelectronics Corp. (UMC) rose 0.79 percent to end at NT$38.45 but still came off an early high of NT$39.10.
Old economy stocks closed mixed as most of them failed to sustain earlier gains in line with the broader market, dealers said.
Among them, food brand Uni-President Enterprises Corp. lost 0.89 percent to close at NT$67.00, and textile supplier Makalot Industrial Co. fell 5.58 percent to end at NT$186.00, while Kindom Construction Corp. rose 3.93 percent to close at NT$37.05.
"But the progress in COVID-19 vaccine development continued to boost tourism stocks," Huang said. "Moreover, a hike in freight rates helped shipping stocks outperform the broader market."
In the tourism sector, Formosa International Hotels Corp. rose 3.99 percent to close at NT$143.50, and Lion Travel Service Co. gained 4.27 percent to end at NT$78.10.
Among the gaining shipping stocks, Evergreen Marine Corp., the largest shipping company in Taiwan, rose 3.02 percent to close at NT$23.85, and Yang Ming Marine Transport Corp. added 4.21 percent to end at NT$13.60.
"With the Thanksgiving and Christmas holidays approaching, I'm afraid that as more foreign institutional investors go on vacation, the market will see less liquidity," Huang said.
According to the TWSE, foreign institutional investors sold a net NT$10.63 billion in shares on the market Wednesday.